Index » World coins » America » US State quarters
50 US State quarters coins catalog
Coins parameters
Value - $0.25=25 cents
Years of minting - 1999-2009
Composition - copper-nickel clad copper
Diameter 24.26 mm.
Thickness 1.75 mm.
Edge reeded
Which state quarters most valuable?
The maximum mintage has a Virginia quarter - 1,594,616,000 copies. The minimum mintage has Oklahoma quarter - 416,600,000 copies. This is a lot. Below you can see the approximate prices and they are not higher than $2, even for a uncirculated coin. So - state quarters are not expensive.
List of commemorative quarters series "States and Territories"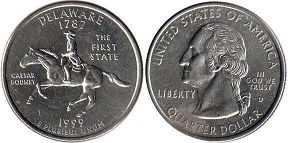 State quarter 1999 - Delaware

DELAWARE 1787 / CAESAR RODNEY / THE FIRST STATE / 1999 E PLURIBUS UNUM
UNITED STATES OF AMERICA / LIBERTY / IN GOD WE TRUST / QUARTER DOLLAR
Coin value - ~$1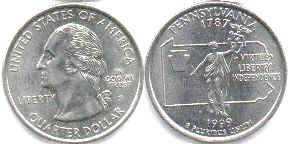 State quarter 1999 - Pennsylvania

UNITED STATES OF AMERICA / LIBERTY / IN GOD WE TRUST / QUARTER DOLLAR
PENSYLVANIA 1787 / VIRTUE LIBERTY INDEPENDENCE / 1999 E PLURIBUS UNUM
Coin value - ~$1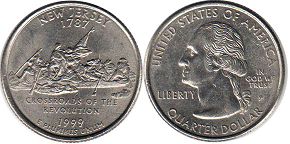 State quarter 1999 - Ney Jersey

NEW JERCEY 1787 / CROSSROADS OF THE REVOLUTION / 1999 E PLURIBUS UNUM
UNITED STATES OF AMERICA / LIBERTY / IN GOD WE TRUST / QUARTER DOLLAR
Coin value - ~$1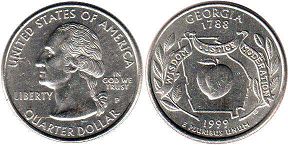 State quarter 1999 - Georgia

UNITED STATES OF AMERICA / LIBERTY / IN GOD WE TRUST / QUARTER DOLLAR
GEORGIA 1788 / WITHDOM JUSTICE MODERATION / 1999 E PLURIBUS UNUM
Coin value - ~$1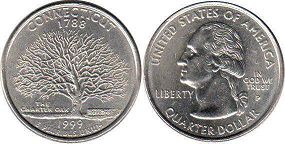 State quarter 1999 - Connecticut
CONNECTICUT 1788 / THE CHARTER OAK / 1999 E PLURIBUS UNUM
UNITED STATES OF AMERICA / LIBERTY / IN GOD WE TRUST / QUARTER DOLLAR
Coin value - ~$1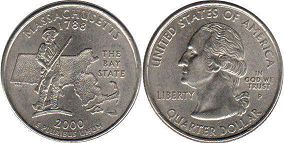 State quarter 2000 - Massachusetts

MASSACHUSETTS 1788 / THE BAY STATE / 2000 E PLURIBUS UNUM
UNITED STATES OF AMERICA / LIBERTY / IN GOD WE TRUST / QUARTER DOLLAR
Coin value - ~$1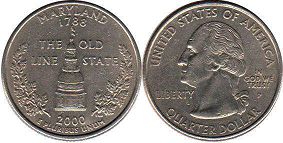 State quarter 2000 - Maryland

MARYLAND 1788 / THE OLD LINE STATE / 2000 E PLURIBUS UNUM
UNITED STATES OF AMERICA / LIBERTY / IN GOD WE TRUST / QUARTER DOLLAR
Coin value - ~$1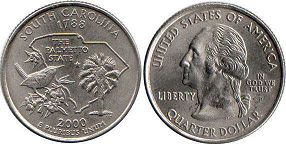 State quarter 2000 - South Carolina

SOUTH CAROLINA 1788 / THE PALMETTO STATE / 2000 E PLURIBUS UNUM
UNITED STATES OF AMERICA / LIBERTY / IN GOD WE TRUST / QUARTER DOLLAR
Coin value - ~$1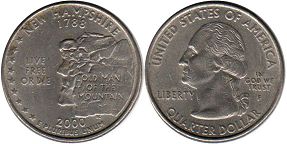 State quarter 2000 - New Hampshire

NEW HAMPSHIRE 1788 / LIVE FREE OR DIE / OLD MAN OF THE MOUNTAINS / 1999 E PLURIBUS UNUM
UNITED STATES OF AMERICA / LIBERTY / IN GOD WE TRUST / QUARTER DOLLAR
Coin value - ~$1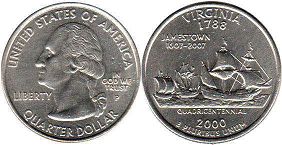 State quarter 2000 - Virginia

UNITED STATES OF AMERICA / LIBERTY / IN GOD WE TRUST / QUARTER DOLLAR
VIRGINIA 1788 / JAMESTOWN 1607-2007 / QUADRECENTINIAL / 2000 E PLURIBUS UNUM
Coin value - ~$1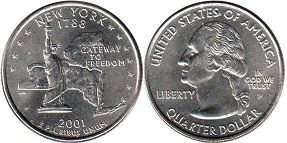 State quarter 2001 - New York

NEW YORK 1788 / GATEWAY TO FREEDOM / 2001 E PLURIBUS UNUM
UNITED STATES OF AMERICA / LIBERTY / IN GOD WE TRUST / QUARTER DOLLAR
Coin value - ~$1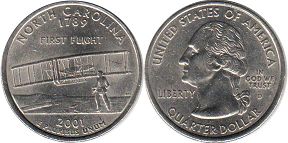 State quarter 2001 - North Carolina

NORTH CAROLINA 1789 / FIRST FLIGHT / 2001 E PLURIBUS UNUM
UNITED STATES OF AMERICA / LIBERTY / IN GOD WE TRUST / QUARTER DOLLAR
Coin value - ~$1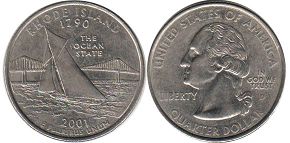 State quarter 2001 - Rhode Island

RHODE ISLAND 1790 / THE OCEAN STATE / 2001 E PLURIBUS UNUM
UNITED STATES OF AMERICA / LIBERTY / IN GOD WE TRUST / QUARTER DOLLAR
Coin value - ~$1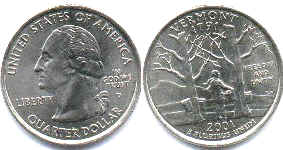 State quarter 2001 - Vermont

UNITED STATES OF AMERICA / LIBERTY / IN GOD WE TRUST / QUARTER DOLLAR
VERMONTH 1791 / FREEDOM AND UNITY / 2001 E PLURIBUS UNUM
Coin value - ~$1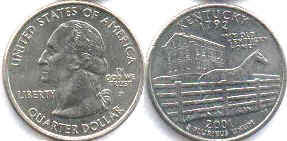 State quarter 2001 - Kentucky

UNITED STATES OF AMERICA / LIBERTY / IN GOD WE TRUST / QUARTER DOLLAR
KENTUCKY 1792 / MY OLD KENTUCKY HOME / 2001 E PLURIBUS UNUM
Coin value - ~$1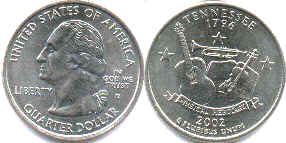 State quarter 2002 - Tennessee

UNITED STATES OF AMERICA / LIBERTY / IN GOD WE TRUST / QUARTER DOLLAR
TENNESSEE 1796 / MUSICAL HERITAGE / 2002 E PLURIBUS UNUM
Coin value - ~$1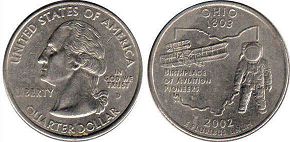 State quarter 2002 - Ohio

UNITED STATES OF AMERICA / LIBERTY / IN GOD WE TRUST / QUARTER DOLLAR
OHIO 1803 / BIRTPLACE OF AVIATION PIONEERS / 2002 E PLURIBUS UNUM
Coin value - ~$1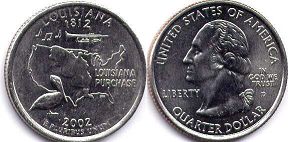 State quarter 2002 - Louisiana

LOUISINA 1812 / LOUISINA PURCHASE / 2002 E PLURIBUS UNUM
UNITED STATES OF AMERICA / LIBERTY / IN GOD WE TRUST / QUARTER DOLLAR
Coin value - ~$1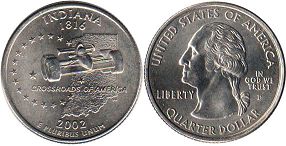 State quarter 2002 - Indiana

INDIANA 1816 / CROSSROADS OF AMERICA / 2002 E PLURIBUS UNUM
UNITED STATES OF AMERICA / LIBERTY / IN GOD WE TRUST / QUARTER DOLLAR
Coin value - ~$1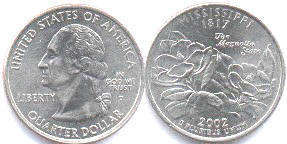 State quarter 2002 - Mississippi

UNITED STATES OF AMERICA / LIBERTY / IN GOD WE TRUST / QUARTER DOLLAR
MISSISSIPPI 1817 / THE MAGNOLIA STATE / 2002 E PLURIBUS UNUM
Coin value - ~$1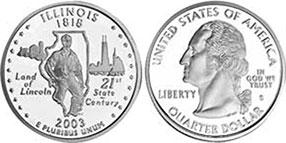 State quarter 2003 - Illinois

ILLINOIS 1818 / LAND OF LINCOLN / 21st STATE CENTURY / 2003 E PLURIBUS UNUM
UNITED STATES OF AMERICA / LIBERTY / IN GOD WE TRUST / QUARTER DOLLAR
Coin value - ~$1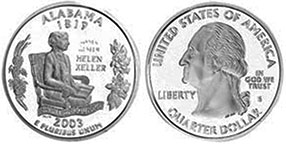 State quarter 2003 - Alabama

ALABAMA 1817 / HELEN KELLER / SPIRIT OF COURAGE / 2003 E PLURIBUS UNUM
UNITED STATES OF AMERICA / LIBERTY / IN GOD WE TRUST / QUARTER DOLLAR
Coin value - ~$1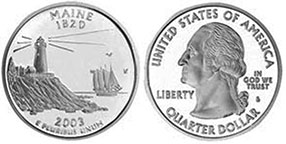 State quarter 2003 - Maine

MAINE 1820 / 2003 E PLURIBUS UNUM
UNITED STATES OF AMERICA / LIBERTY / IN GOD WE TRUST / QUARTER DOLLAR
Coin value - ~$1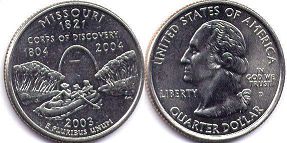 State quarter 2003 - Missouri

MISSOURY 1821 / CORPS OF DISCOVERY 1804 2004 / 2003 E PLURIBUS UNUM
UNITED STATES OF AMERICA / LIBERTY / IN GOD WE TRUST / QUARTER DOLLAR
Coin value - ~$1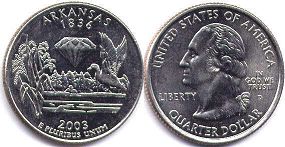 State quarter 2003 - Arkansas

ARKANZAS 1836 / 2003 E PLURIBUS UNUM
UNITED STATES OF AMERICA / LIBERTY / IN GOD WE TRUST / QUARTER DOLLAR
Coin value - ~$1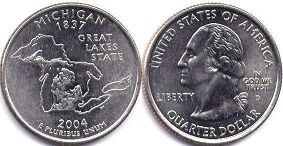 State quarter 2004 - Michigan

MICHIGAN 1837 / GREAT LAKES STATE / 2004 E PLURIBUS UNUM
UNITED STATES OF AMERICA / LIBERTY / IN GOD WE TRUST / QUARTER DOLLAR
Coin value - ~$1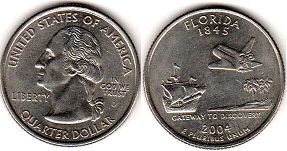 State quarter 2004 - Florida

UNITED STATES OF AMERICA / LIBERTY / IN GOD WE TRUST / QUARTER DOLLAR
FLORIDA 1845 / GATEWAY TO DISCOVEY / 2004 E PLURIBUS UNUM
Coin value - ~$1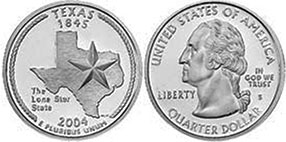 State quarter 2004 - Texas

TEXAS 1845 / THE LOAN STAR STATE / 2004 E PLURIBUS UNUM
UNITED STATES OF AMERICA / LIBERTY / IN GOD WE TRUST / QUARTER DOLLAR
Coin value - ~$1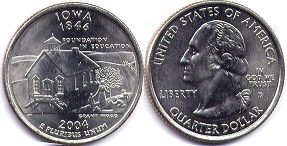 State quarter 2004 - Iowa

IOWA 1846 / 2004 E PLURIBUS UNUM
UNITED STATES OF AMERICA / LIBERTY / IN GOD WE TRUST / QUARTER DOLLAR
Coin value - ~$1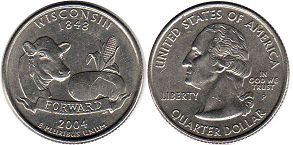 State quarter 2004 - Wisconsin

WISCONSIN 1848 / FORWARD / 2004 E PLURIBUS UNUM
UNITED STATES OF AMERICA / LIBERTY / IN GOD WE TRUST / QUARTER DOLLAR
Coin value - ~$1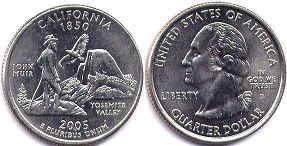 State quarter 2005 - California

CALIFORNIA 1850 / JOHN MUIR / YOSEMITE VALLEY / 2005 E PLURIBUS UNUM
UNITED STATES OF AMERICA / LIBERTY / IN GOD WE TRUST / QUARTER DOLLAR
Coin value - ~$1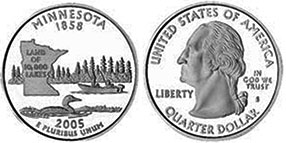 State quarter 2005 - Minnesota

MINNESOTA 1858 / LAND OF 10,000 LAKES / 2005 E PLURIBUS UNUM
UNITED STATES OF AMERICA / LIBERTY / IN GOD WE TRUST / QUARTER DOLLAR
Coin value - ~$1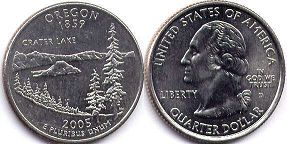 State quarter 2005 - Oregon

OREGON 1846 / GREATER LAKE / 2005 E PLURIBUS UNUM
UNITED STATES OF AMERICA / LIBERTY / IN GOD WE TRUST / QUARTER DOLLAR
Coin value - ~$1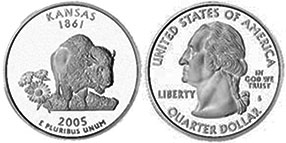 State quarter 2005 - Kansas

KANSAS 1861 / 2005 E PLURIBUS UNUM
UNITED STATES OF AMERICA / LIBERTY / IN GOD WE TRUST / QUARTER DOLLAR
Coin value - ~$1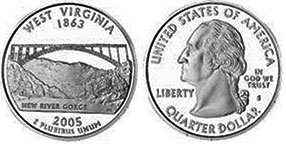 State quarter 2005 - West Virginia

WEST VIRGINIA 1863 / NEW RIVER GORGE / 2005 E PLURIBUS UNUM
UNITED STATES OF AMERICA / LIBERTY / IN GOD WE TRUST / QUARTER DOLLAR
Coin value - ~$1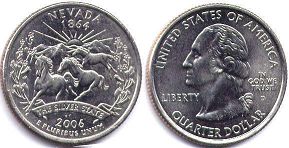 State quarter 2006 - Nevada

NEVADA 1864 / THE SILVER STATE / 2006 E PLURIBUS UNUM
UNITED STATES OF AMERICA / LIBERTY / IN GOD WE TRUST / QUARTER DOLLAR
Coin value - ~$1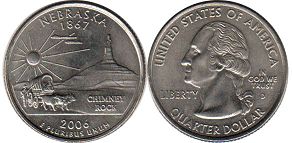 State quarter 2006 - Nebraska

NEBRASKA 1867 / CHIMNEY ROCK / 2006 E PLURIBUS UNUM
UNITED STATES OF AMERICA / LIBERTY / IN GOD WE TRUST / QUARTER DOLLAR
Coin value - ~$1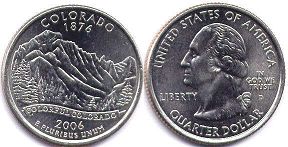 State quarter 2006 - Colorado

COLORADO 1876 / COLORFUL COLORADO / 2006 E PLURIBUS UNUM
UNITED STATES OF AMERICA / LIBERTY / IN GOD WE TRUST / QUARTER DOLLAR
Coin value - ~$1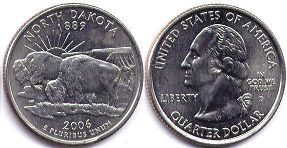 State quarter 2006 - North Dakota

NORTH DAKOTA 1889 / 2006 E PLURIBUS UNUM
UNITED STATES OF AMERICA / LIBERTY / IN GOD WE TRUST / QUARTER DOLLAR
Coin value - ~$1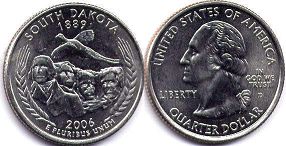 State quarter 2006 - South Dakota

SOUTH DAKOTA 1889 / 2006 E PLURIBUS UNUM
UNITED STATES OF AMERICA / LIBERTY / IN GOD WE TRUST / QUARTER DOLLAR
Coin value - ~$1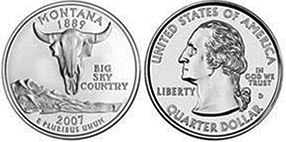 State quarter 2007 - Montana

MONTANA 1889 / BIG SKY COUNTRY / 2007 E PLURIBUS UNUM
UNITED STATES OF AMERICA / LIBERTY / IN GOD WE TRUST / QUARTER DOLLAR
Coin value - ~$1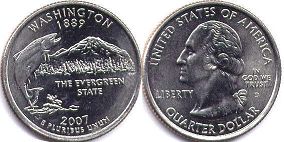 State quarter 2007 - Washington

WASHINGTON 1889 / THE EVERGREEN STATE / 2007 E PLURIBUS UNUM
UNITED STATES OF AMERICA / LIBERTY / IN GOD WE TRUST / QUARTER DOLLAR
Coin value - ~$1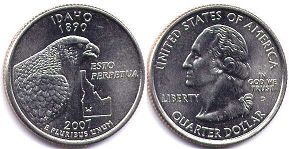 State quarter 2007 - Idaho

IDAHO 1890 / ESTA PERFETUA / 2007 E PLURIBUS UNUM
UNITED STATES OF AMERICA / LIBERTY / IN GOD WE TRUST / QUARTER DOLLAR
Coin value - ~$1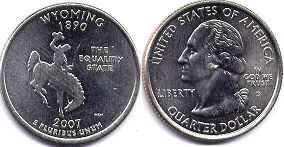 State quarter 2007 - Wyoming

WYOMING 1890 / THE EQUALITY STATE / 2007 E PLURIBUS UNUM
UNITED STATES OF AMERICA / LIBERTY / IN GOD WE TRUST / QUARTER DOLLAR
Coin value - ~$1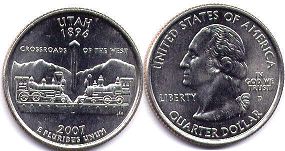 State quarter 2007 - Utah

UTAH 1896 / CROSSROADS OF THE WEST / 2007 E PLURIBUS UNUM
UNITED STATES OF AMERICA / LIBERTY / IN GOD WE TRUST / QUARTER DOLLAR
Coin value - ~$1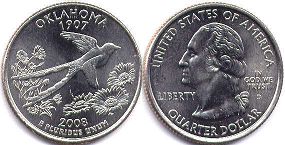 State quarter 2008 - Oklahoma

OKLAHOMA 1907 / 2008 E PLURIBUS UNUM
UNITED STATES OF AMERICA / LIBERTY / IN GOD WE TRUST / QUARTER DOLLAR
Coin value - ~$1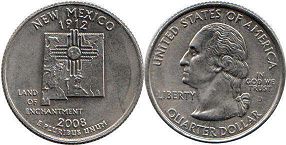 State quarter 2008 - New Mexico

NEW MEXICO 1912 / LAND OF ENCHANTMENT / 2008 E PLURIBUS UNUM
UNITED STATES OF AMERICA / LIBERTY / IN GOD WE TRUST / QUARTER DOLLAR
Coin value - ~$1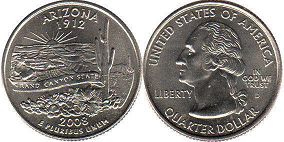 State quarter 2008 - Arizona

ARIZONA 1912 / 2008 E PLURIBUS UNUM
UNITED STATES OF AMERICA / LIBERTY / IN GOD WE TRUST / QUARTER DOLLAR
Coin value - ~$1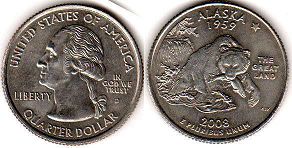 State quarter 2008 - Alaska

UNITED STATES OF AMERICA / LIBERTY / IN GOD WE TRUST / QUARTER DOLLAR
ALASKA 1959 / THE GREAT LAND / 2008 E PLURIBUS UNUM
Coin value - ~$1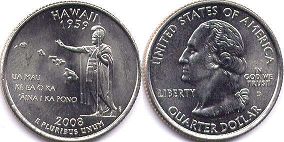 State quarter 2008 - Hawaii

HAWAII 1959 / UA MAU RE EU O KA AINA I KA PONO / 2008
E PLURIBUS UNUM
UNITED STATES OF AMERICA / LIBERTY / IN GOD WE TRUST / QUARTER DOLLAR
Coin value - ~$1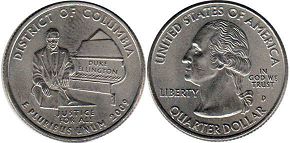 State quarter 2009 - District of Columbia

DISTRICT OF COLUMBIA / DUKE ELLINGTON / JUSTICE FOR ALL / E PLURIBUS UNUM 2009
UNITED STATES OF AMERICA / LIBERTY / IN GOD WE TRUST / QUARTER DOLLAR
Coin value - ~$1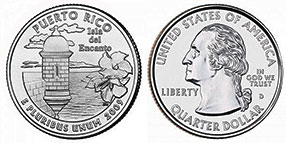 State quarter 2009 - Puerto Rico

PUERTO RICO / ISLA DEL ENCANTO / E PLURIBUS UNUM 2009
UNITED STATES OF AMERICA / LIBERTY / IN GOD WE TRUST / QUARTER DOLLAR
Coin value - ~$1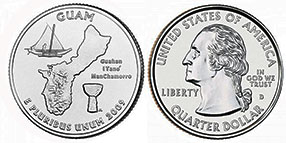 State quarter 2009 - Guam

GUAM / GUAHAN I TANO MANCHAMORRO / E PLURIBUS UNUM 2009
UNITED STATES OF AMERICA / LIBERTY / IN GOD WE TRUST / QUARTER DOLLAR
Coin value - ~$1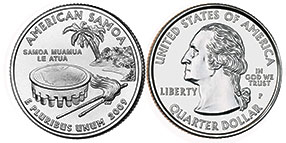 State quarter 2009 - American Samoa

AMERICAN SAMOA / SAMOA MUAMUA LE ATUA / E PLURIBUS UNUM 2009
UNITED STATES OF AMERICA / LIBERTY / IN GOD WE TRUST / QUARTER DOLLAR
Coin value - $1-2

State quarter 2009 - U.S. Virgin Islands

U.S. VIRGIN ISLANDS / UNITED IN PRIDE AND HOPE / E PLURIBUS UNUM 2009
UNITED STATES OF AMERICA / LIBERTY / IN GOD WE TRUST / QUARTER DOLLAR
Coin value - $1-2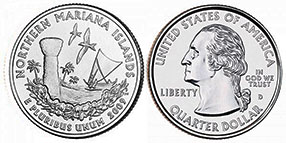 State quarter 2009 - Northern Mariana Islands

NOTHERN MARIANA ISLANDS / E PLURIBUS UNUM 2009
UNITED STATES OF AMERICA / LIBERTY / IN GOD WE TRUST / QUARTER DOLLAR
Coin value - $1-2
See other US coins:
US dollars
US cents
Other US commemorative coins
Other US quarters