Index » World coins » America » USA » 50 State Quarters » 2001 Rhode Island 1790
US Quarter 2001 Rhode Island State
Currency - Dollar=100 cents
Face value: Quarter dollar ($1/4=25 cents)
Type - commemorative coin 50 States Quarters Series

Composition - copper-nickel clad copper
Diameter - 24.3 mm
Weight - 5.67 grams
Edge: Reeded

Mint Mark: D (Denver), P (Philadelphia)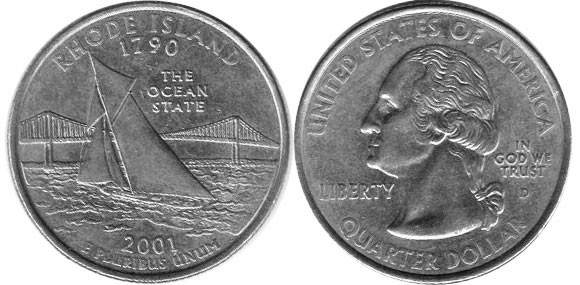 Years of mintage:
2001
Reverse:
America's Cup yacht Reliance on Narragansett Bay, Claiborne Pell Newport Bridge
Legend:
RHODE ISLAND 1790 / THE OCEAN STATE / 2001 E PLURIBUS UNUM
Obverse:
Washington facing left
Legend:
QUARTER DOLLAR / UNITED STATES OF AMERICA / LIBERTY / IN GOD WE TRUST
Krause catalog number - KM#320
Coin value in condition:
UNC (Uncirculated - without traces of circulation) - ~1 USD.00
XF (Extremely Fine) - 0.25-0.50
Worse than "XF" - 0.25 USD
RHODE ISLAND #13
Capital: Providence.
Adhered to: May 29, 1790.
Population: 1,069,725 inhabitants.
Origin of the name: Named after the Greek island of Rhodes.
Reverse shows an image of a sailboat sailing through Rhode Island Bay, behind it, Pell's Bridge.
The legend "THE OCEAN STATE" "The Ocean State" as Rhode Island is nicknamed and above the date of its accession to The Union.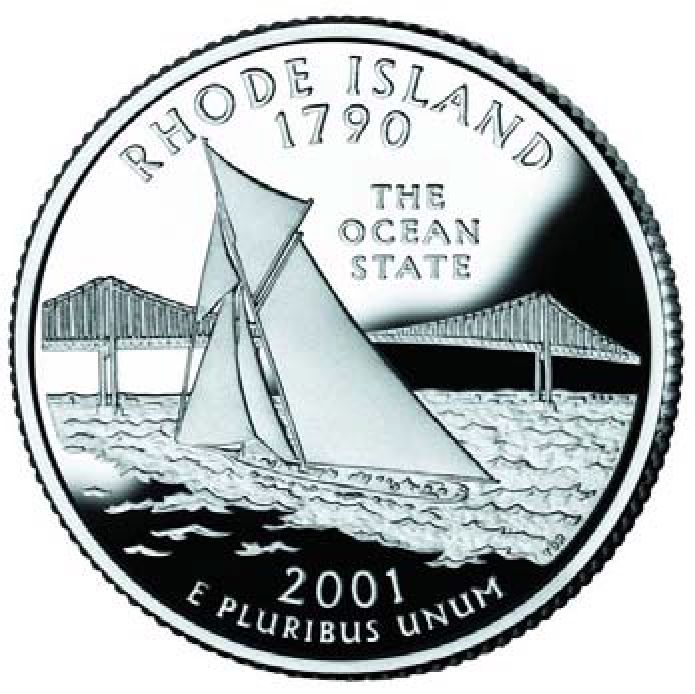 KM#(D):320KM#(S):320a
With more than 400 miles of coastline, Rhode Island is the smallest state in the Union, with more than 100 beaches, both freshwater and saltwater.
It is known worldwide as the Capital of Navigation, among other things because it hosted the most famous regatta in the world, the American Cup, for more than 50 years. Its geographical location, with its great gulf facing the Atlantic, the mouth of 4 important rivers and several islands in its interior, make Narragansett Bay an exceptional place to practice water sports.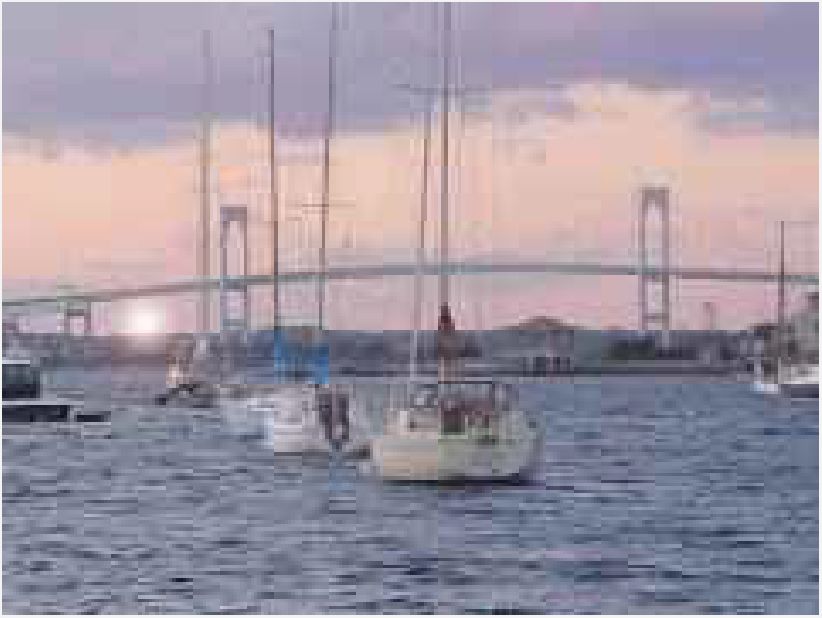 View of a regatta with the Pell Bridge.
Pell's Bridge is a suspension bridge that connects the city of Newport on Aquidneck Island with the city of Jamestown.
It is 488 meters long and is located at a height of 122 meters above the water level.
It was built between 1966 and 1969 by Parsons, Brinckerhoff and the Quade & Douglas Firm, at a cost of $54,742,000.

Pell's Bridge.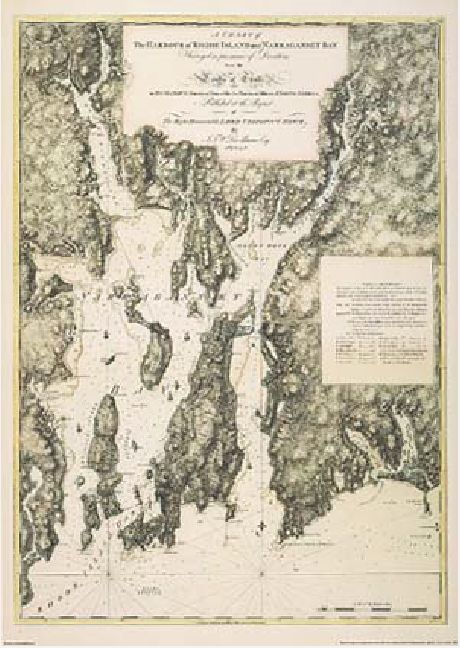 Coast map.