Index » World coins » America » USA » 50 State Quarters » 2005 West Virginia 1863
US Quarter 2005 West Virginia State
Currency - Dollar=100 cents
Face value: Quarter dollar ($1/4=25 cents)
Type - commemorative coin 50 States Quarters Series

Composition - copper-nickel clad copper
Diameter - 24.3 mm
Weight - 5.67 grams
Edge: Reeded

Mint Mark: D (Denver), P (Philadelphia)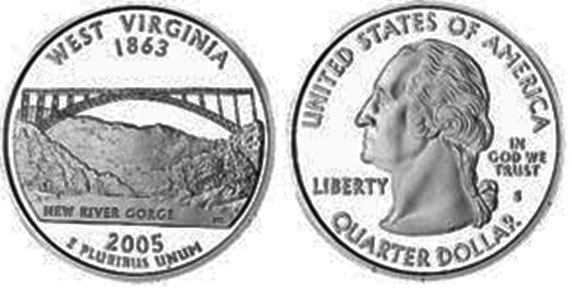 Years of mintage:
2005
Reverse:
New River Gorge Bridge
Legend:
WEST VIRGINIA 1863 / NEW RIVER GORGE / 2005 E PLURIBUS UNUM
Obverse:
Washington facing left
Legend:
QUARTER DOLLAR / UNITED STATES OF AMERICA / LIBERTY / IN GOD WE TRUST
Krause catalog number - KM#374
Coin value in condition:
UNC (Uncirculated - without traces of circulation) - ~1 USD.00
XF (Extremely Fine) - 0.25-0.50
Worse than "XF" - 0.25 USD
WEST VIRGINIA #35
Capital: Charleston.
Adhered to: June 20, 1863.
Population: 1,801,873 Hab.
Origin of the name: West was added to the State of Virginia in the Civil War, when separating from Virginia, and joining the Union.
The reverse shows the image of the "Gorge River" bridge over the "New River", below the legend "New River Gorge" name of the bridge, above the date of incorporation into La Unión.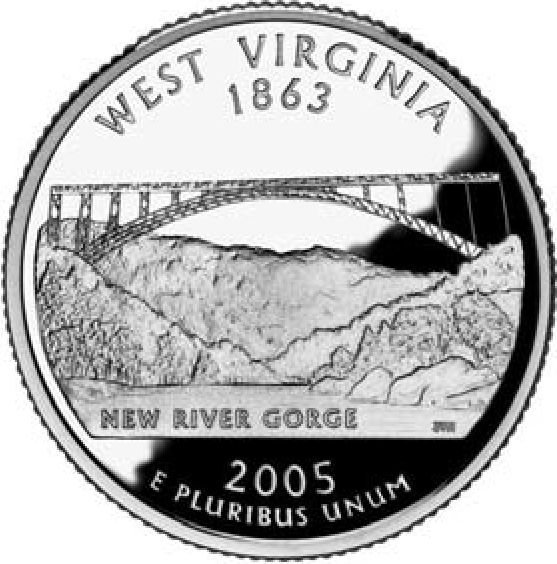 KM#(D):374KM#(S):374a
Before the American Civil War, West Virginia was the western part of the State of Virginia, the settlers who inhabited that territory fought to belong to the Federal States when Virginia announced its secession in 1861, thus in 1862 the new Government wrote its own constitution.
Once the Civil War ended, West Virginia requested entry into The Union, and Congress demanded the total abolition of slavery as a requirement, which once accepted by the State led President Lincoln to sign his entry into The Union.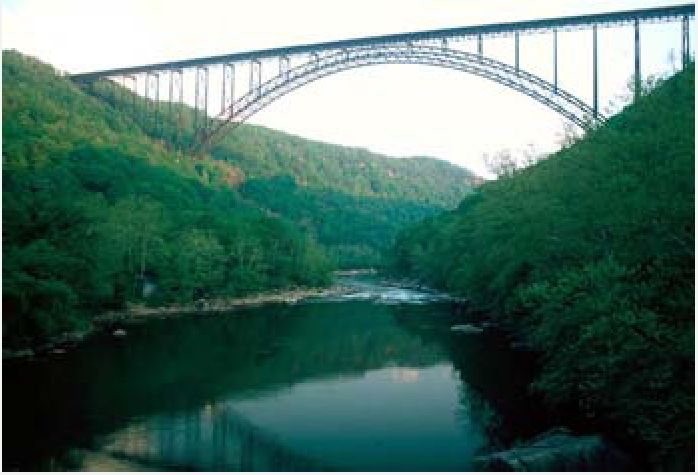 Image of the Bridge over the New River.
The reverse design shows a combination of natural beauty and the achievement of human intellect to overcome obstacles, the Gorge Bridge.
It is 923m long by 21m wide, the largest steel-built bridge in the world, and the second highest in the US, rising 267m above the river.
Thanks to the completion of this engineering work in 1977, the tortuous mountain roads were closed, in which it took about 40 minutes to cross the river, for the minute used today.
In this way, in 1978 85.5 km of the river could be added to the New River Natural Park, forming what today is one of the most beautiful scenes in the United States.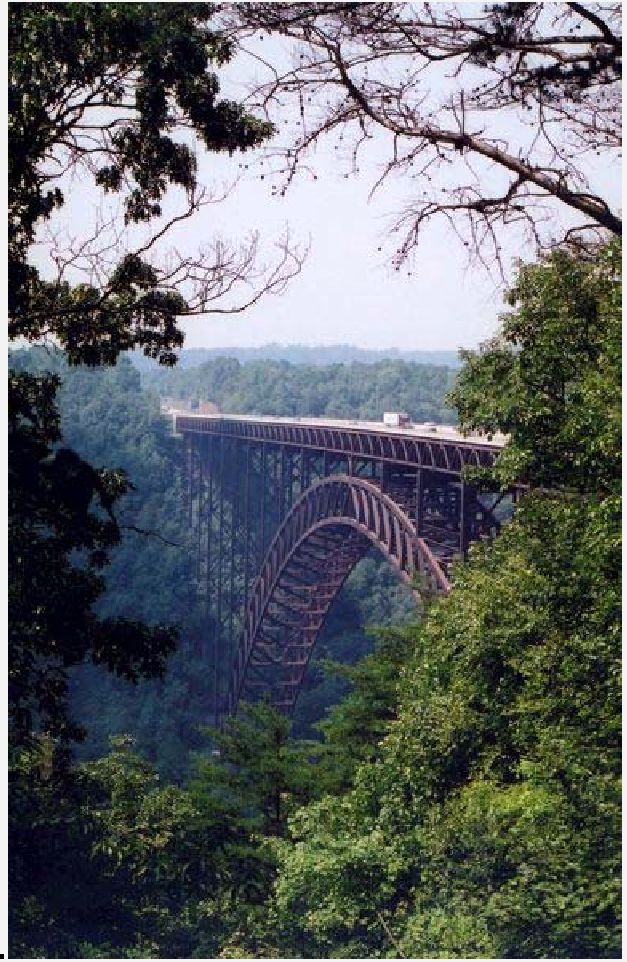 Gorge Bridge, West Virginia.