| | | |
| --- | --- | --- |
| | ONLINE COINS CATALOG | |
Poitiers coins catalog
County of Poitou
Denier
Charles II the Bald king of West France (843-877)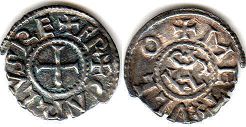 denier ND
silver
Melle mint
CARLVS REX FR
METVLLO
Coin value - $80-100
Anonymous coinage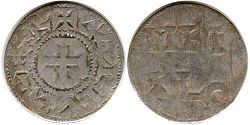 denier ND (898-922)
silver
with name of the king Charles the Simple
CARLVS REX R
METALO
Coin value - $60-80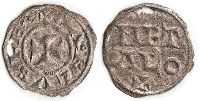 obole ND (1050-1150)
silver
CARLVS REX
METALO
Coin value - $60-80
Alphonse I (1241-1271)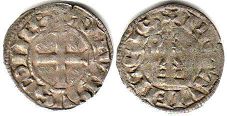 denier ND
silver
ALFVNSVS COMES
PICTAVINENSIS
Coin value - $40-50
Alphonse (1220-1271) - the third son of Louis VIII and Blanca of Castile. In 1241, according to the will of his father, he received Poitou. At the same time, marriage was concluded with the daughter and heiress of the Count of Toulouse Raymond VII. Since part of the lands transferred to Alphonse formally belonged to the English king, he did not fail to come out to defend his rights, and Raymond, the father-in-law with his army, was also in the army of Henry III of England :). This, however, is not surprising, from the marriage was the result of the Paris Treaty of 1229, according to which the defeated count, in addition to territorial concessions, yielded his daughter to the prince. The French royal army broke this coalition and Count Raymond submitted to King Louis IX (Alphonse elder brother).
In 1249, Alphonse , a couple with the resigned father-in-law, went on another crusade organized by Louis (who, by the way, earned the nickname "Holy" not only for crusades. But that is another story.). On the way, Raymond died and Alphonse became Count of Toulouse.
In 1250, he, together with Charles of Anjou, returned to France, where in the absence of the king and after the death of Blanca of Castile (1252), the brothers became regents. Alphonse lived in Paris, but paid great attention to his possessions in southern France - he divided the territory into seneschals, tried to unify the city law, protected the citizens from the feudal lords. He supported the Inquisition; in 1249, he organized the first in the history of the county persecution of Jews. As they write, Alphonse de Poitiers was distinguished by a despotic character. In those days, there were not many lambs among the feudal lords, but apparently, he stood out even against their background.
In 1270, Alphonse set off on another crusade, in which and Louis IX and himself died. Alphonse had no children, and his domain was added to the royal domain.