| | | |
| --- | --- | --- |
| | ONLINE COINS CATALOG | |
Duchy of Burgundy coins catalog
Duchy of Burgundy
denier
Hugh IV (1218-1272)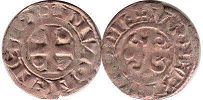 denier ND
billon
DIVIONENSIS
VGO DVX BVRGNDIE
Coin value - $35-45
Hugh V (1305-1315)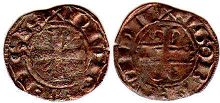 denier ND
billon
DIVIONENSIS
VGO BVRGVNDIE / DVX
Coin value - $35-45
John II the Fearless (1404-1419)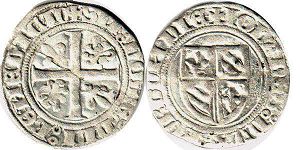 Blanc ND
silver
IOHANNES DVX BURGUVNDIE
SIT NOME DNI BENEDICTV
Coin value - $35-60
John (Jean) (1371-1419) son of duke Philip II the Bold. Received the nickname in the battle of Nikopol (1396), where he was the head of the French crusaders who helped the king of Hungary Sigismund in the fight against the Turks.
After the death of his father, fought for influence on the insane king Charles VI with the brother of the king, Duke Louis of Orleans. In 1407, Louis was killed in Paris at the instigation of Jean of Burgundy, who had to flee the city. The place of Louis was taken by his father-in-law, Bernard d'Armagnac. In 1409, between the Armagnacs and the Bourguignons, the Treaty of Chartres was concluded, in which the king forgave the duke. The civil war, however, continued, developing from small clashes into real battles. The heir to the insane king, the future Charles VII, gradually became the head of the opponents of the duke of Burgundy.
In 1418, the Burgilions captured Paris and massacred the supporters of the Armagnacs, in which the Constable d'Armagnac was killed. The Dauphin managed to escape. The Duke fortified in the capital, declaring himself the "protector of the king." In 1419, a meeting was held between the Dauphin and the Duke, in Monfero in the middle of the bridge. There the duke was killed by people from the retinue of Charles VII, and received the same wounds by the same weapon as Louis Orleans 12 years ago.