| | |
| --- | --- |
| | ONLINE COINS CATALOGUE |
Coins catalogue of Comtat Venaissin
Comtat Venaissin (Avignon)
Ecu=40 sol; Sol=15 denier; Liard=3 denier
Comte-Venaissin is the area around Avignon (the city itself was not part of it). From 1096 enters in theMarquisate of Provence. The last marquis of Provence, Alphonse de Poitiers, bequeathed Comte-Venaissin to the Holy See. He died in 1271, and in 1274, Comte-Venaissin became the Papal States. Avignon remained under the authority of the Count of Provence, but the Popes were allowed to live there, which Clement V took advantage of in 1309, initiating the so-called. Avignon Capture of the Popes. In fact, it certainly was not a captive - Clement (the Frenchman himself) quite consciously transferred his residence to Avignon, fleeing from the revolted citizens of Rome. The following six popes were also French and were fully subordinate to the policies of the kings of France. The city of Avignon was redeemed by Pope Gregory XI in 1348. In 1377 Gregory XI, despite the resistance of the king and the French cardinals, returned to Rome.
However, already in 1378, after the death of Gregory, a part of the cardinals, dissatisfied with the election of Urban VI, elected the antipope Clement VII, who settled in Avignon. The last Avignon antipope Benedict XIII was excommunicated and fled the city in 1403.
Comte-Venaissin and Avignon remained Papal possession until the Great French Revolution.
Pope Gregory XIII (1572-1585)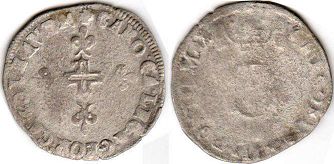 double sol parisis ND
silver
CARO CA LEGA GEOR CA COLE AVEN
GREGORIVS XIII PONTIF MAX /G
Coin value - $120-150
Hugo Boncompagni (1502-1585).
The main thing that is famous for Gregory XIII is the Gregorian calendar, designed by the Jesuit Christopher Clavius ​​and introduced by Gregory in all Catholic countries.
The chronicles note the genuine piety of the Pope, which in those days was the exception rather than the rule (otherwise, it would not be necessary to note this fact in the chronicles :).
It was the era of the Reformation. The pope warmly supported the massacre on St. Bartholomew's night and, in general, with all his might, contributed to the struggle of Catholicism against the Reform, both by diplomatic means and not entirely. He died at the age of 84 years.
Pope Clemens VIII (1592-1605)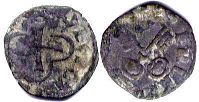 patardND
copper
CLEMENS VIII PONTI
S PETRVS ET PAVLVS CAR
Coin value - $15-25
Ippolito Aldobrandini (1536-1605).
Being a cardinal, he fervently condemned nepotism, which did not prevent him from becoming a pope, to appoint four relatives as cardinals.
The Inquisition raged in the pontificate of Clement. In 1600 Giordano Bruno was burned.
Pope Urban VIII (1623-1644)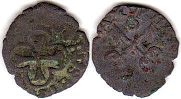 patard ND
copper
VRBANVS VIII PONT MAX
S PETRVS ET PAVLVS AVEN
Coin value - $15-25
Maffeo Barberini (1568-1644).
After assuming the throne, he began to promote his relatives so zealously that he overshadowed even the popes of the Renaissance period. In order to deliver the principality of Castro to his nephews who had not yet been attached, he began a war with Venice, Florence, Parma and Modena.
In 1633 Galileo Galileo was convicted.