| | | |
| --- | --- | --- |
| | ONLINE COINS CATALOG | |
Bearn coins catalog
Viscounts of Bearn
denier
Centules (XI-XIII century)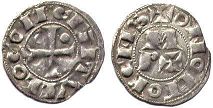 denier ND
silver
CENTVLLO COM
ONOR FORCAS / PAX
Coin value - $25-35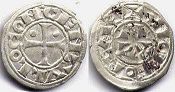 obole (1/2 denier) ND
silver
CENTVLLO COM
ONOR FORCAS / PAX
Coin value - $25-30
Centules was a few. Centule I seems to have begun to rule around 844, and his father was also called Centule and he was also a viscount, so it is not clear why this Centule was with the first number. There is no reliable information about this period, but it is unlikely that these coins began to be minted under Centule I. The style is not the same, and indeed, such a minor senor in the 9th century is unlikely could afford to mint a coin (simply for material reasons). The same applies to Centule II (? -about 940) and Centule III (? -about 1004).

But Centule IV Old (? -1058), which began to rule about 1022, was already quite an influential person. He significantly increased his possessions by marrying the heiress of the neighboring Viscount Oloron, and in 1039 was even one of the candidates for the throne of Duke Gascony and Aquitaine, who was released after the murder of Duke Ed. He was unable to become a duke, but he proclaimed the right to independence of the Viscounts from Aquitaine. Centule IV was killed in one of the border clashes (1058) and was succeeded by his grandson Centule V Young (? -1090).

Centule V, most likely, began the minting of coins, because at that time the mint in Morlans already existed. Viscount continued his course of distance from Aquitaine, of which he was still a vassal of the duke. In contrast to this vassalage, he entered into an alliance with the king of neighboring Aragon. In 1090, he led the Bearn army to help the Aragon's king and was killed in battle.

He was succeeded by his son Gaston IV (? -1131) nicknamed the Crusader, because he participated in the First Crusade (1096), where he was not among the leaders, but commanded a fairly significant detachment. He was a pious man and built several churches. With him, the territory of the viscounts continued to increase gradually. There are no coins with his name, most likely, the coinage with the name Centule was continued. Gaston died in 1131, and was inherited by a young son.

Gaston's wife, Thalesa, the niece of King Aragon and Navarre Sancho Ramirez, became regent. She dreamed of uniting Bearn with Aragon. This, however, did not happen, from Aragon preferred to unite with Catalonia. Centule VI (? -1134) was a minor in 1131, but in 1134 he was at the head of the Bearn Army who assisted the King of Aragon Alfonso I in Reconquest. Together, victory was won over the Almoravides at Fraga, but Centule was dead there. Since he died and was not killed, it must be assumed that he never reached the age of majority and commanded the army only formally. This was the last Centul, inherited by his elder sister Giscard, and then her son Pedro II.
Most likely, the coins with the name of Centule continued to be minted for a very long time after the death of the last Viscount of this name.
Ecu=60 sol; Sol=12 deniers; Liard=3 deniers
Henry II (king of France Henry IV from 1589) (1572-1610)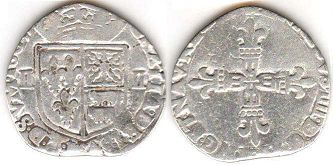 1/4 ecu 160?
silver
GRATIA DEI SVM Q D SVM 160? / II II
HENRICVS IIII D G FRANC ET NAVA REX
Coin value - $90-100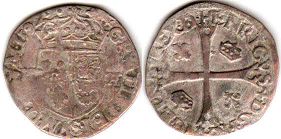 douzain (1/12 ecu) 1592
billon
GRATIA DEI SVM Q D SVM 1592 / H / H
HENRICVS 4 D G FRANC ET NAV REX
Coin value - $45-55
Louis XIII king of France (1610-1643)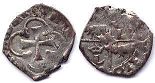 vacquette (liard) ND
billon
GRATIA DEI SVM ID Q SVM
LUDIVI 13 D G F ET NAV REX
Coin value - $40-50