| | | |
| --- | --- | --- |
| | ONLINE COINS CATALOG | |
Coins catalog of Toulouse
County of Toulouse
denier
Raymond VII (1222-1249)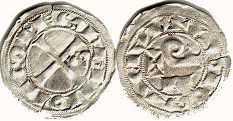 denier ND
silver
RAMON COMES
TOLOSA CIVI
Coin value - $40-50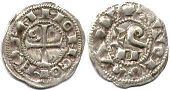 obole (1/2 denier) ND
silver
RAMON COMES
TOLOSA CIVI
Coin value - $40-50
Raymond (1197-1249) - the son of the previous Count Raymond VI, who was also the Duke of Narbonne, Marquis of Gothia and Provence, and Joanna the daughter of King Henry II of England.
All these possessions would be transferred to him by inheritance, but in 1215 the Fourth Lateran Council, for supporting the heretic Cathars, deprived Raymond VI of the rights to his lands and gave them to Simon de Montfort, leader of the Albigensians crusade. In the possession of Raymond remained only the Margrave of Provence. Understandably, they disagreed with this state of affairs. The decision of the cathedral did not really mean anything. And the population (in fact, the same Albigensians-Cathars), for obvious reasons, supported its graph.
In 1216, father and son entered Marseille, then captured the fortress of Boker, and in 1217 Toulouse. In 1218, de Montfort died near Toulouse. Raymond VI was already 62 years old (a very respectable age at that time, few in general lived to such years) and he actually transferred the business to his son, who continued the fight with Amory de Montfort, the son of Simon. Amory appealed for help to the king, who in 1219 sent an army under the command of the future Louis VIII. He laid siege to Toulouse, in which Raymond-son locked himself, but could not take it.

In 1222 Raymond VI died and Raymond VII became the full owner of his lands, most of which, however, still had to be won.
In 1224, Amory VI de Montfort, tired of fighting, waived his rights in favor of the French crown. In 1225, the cathedral in Bourges excommunicated Raymond from the church. In 1226, Louis VIII set off on a new crusade against the Albigensians, but became ill with dysentery and died. Regent with juvenile Louis IX became the widow of Louis VIII Blanca of Castile and the crusade continued.
The forces were clearly not equal, Raymond repented and was taken back to the bosom of the church. Under the terms of the Treaty of Paris (or the Treaty of Mo, 1229), he lost Boker, Carcassonne, the Margrave of Provence and about half of his possessions. In addition, he pledged to give his only daughter Jeanne for the king's younger brother, Alphonse de Poitiers, and in the case of a childless marriage, all of his possessions went to the crown (later, that's what happened). Raymond undertook to pursue the Cathars and establish the Inquisition. After that, he tried several times to marry (previously divorcing his existing wife) so that possible heirs could claim his ownership, but each time the matter ended in nothing due to the opposition of the king and the popes.

In 1249 Raymond set off on a crusade organized by Louis IX, but died on the way. Alphonse of France inherited from him.
Alphonse count of Poitiers (1249-1271)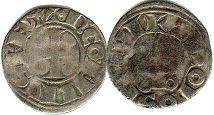 denier ND
silver
A COFILIVS REX
THOLOSA CIVI
Coin value - $40-50
City of Toulouse
Notgelds (emergency money)
Franc=100 centimes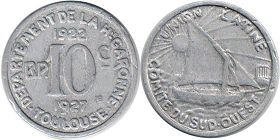 10 centimes 1927
aluminum
1922 BP 10 C 1927 / TOULOUSE / DEPARTAMENT DE LA H GARONNE
UNION LATINE / COMITE DU SUD-OUEST
Coin value - $2-3