Portuguese euro coins catalog with values
Previous -
Portuguese coins before euro
Circulation euro coins of Portugal

2 euro 2002 (2002-2007)
bi-metallic - nickel-brass/copper-nickel
2 EURO
PORTVGAL / PORTUGAL / 2002
Coin value - 4-6 USD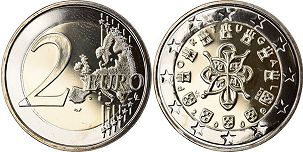 2 euro 2009 (2008- )
bi-metallic - nickel-brass/copper-nickel
2 EURO
PORTVGAL / PORTUGAL / 2009
Coin value - 10-15 USD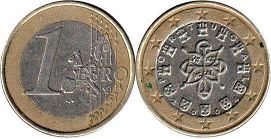 1 euro 2004 (2002-2007)
bi-metallic - copper-nickel/nickel-brass
1 EURO
PORTVGAL / PORTUGAL / 2004
Coin value - 2-3 USD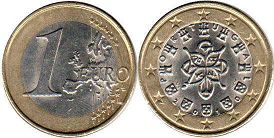 1 euro 2010 (2008- )
bi-metallic - copper-nickel/nickel-brass
1 EURO
PORTVGAL / PORTUGAL / 2010
Coin value - 2-3 USD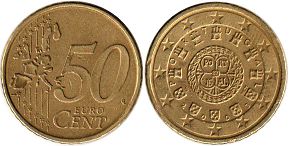 50 euro cent 2005 (2002-2007)
brass
50 EURO CENT
PORTVGAL / PORTUGAL / 2005
Coin value - ~1 USD

50 euro cent 2009 (2008- )
brass
50 EURO CENT
PORTVGAL / PORTUGAL / 2009
Coin value - ~1 USD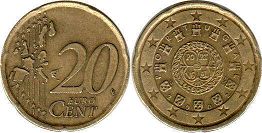 20 euro cent 2002 (2002-2007)
brass
20 EURO CENT
PORTVGAL / PORTUGAL / 2002
Coin value - <1 USD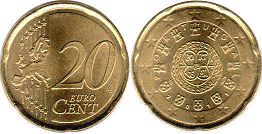 20 euro cent 2011 (2008- )
brass
20 EURO CENT
PORTVGAL / PORTUGAL / 2011
Coin value - 2-4 USD

10 euro cent 2002 (2002-2007)
brass
10 EURO CENT
PORTVGAL / PORTUGAL / 2002
Coin value - <1 USD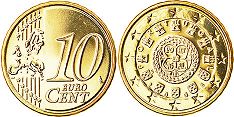 10 euro cent 2008 (2008- )
brass
10 EURO CENT
PORTVGAL / PORTUGAL / 2008
Coin value - 4-8 USD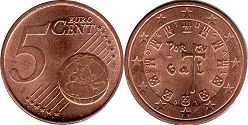 5 euro cent 2012 (2002- )
copper plated steel
5 EURO CENT
PORTVGAL / PORTUGAL / 2012
Coin value - <1 USD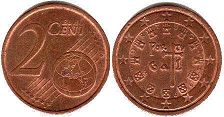 2 euro cent 2009 (2002- )
copper plated steel
2 EURO CENT
PORTVGAL / PORTUGAL / 2009
Coin value - <1 USD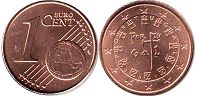 1 euro cent 2011 (2002- )
copper plated steel
1 EURO CENT
PORTVGAL / PORTUGAL / 2011
Coin value - <1 USD
Commemorative euro coins of Portugal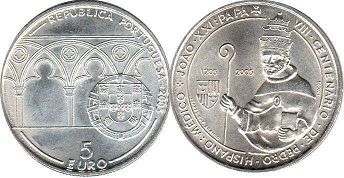 5 euro 2005
silver
800 years since the birth of Pope John XXI
5 EURO / REPUBLICA PORTUGUESA 2005 / National coat of arms with archways in background
VIII CENTENARIO DE PEDRO HISPANO MEDICO JOAO XXI PAPA / 1205 2005 / 1/2 length figure of Pope facing at right with staff dividing dates, small shield at left
Coin value - 10-15 USD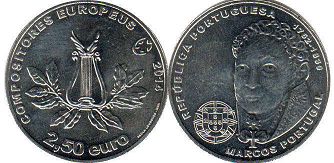 2.5 euro 2014
copper-nickel
European Compositors - Marcos Portugal
2,50 EURO / COMPOSITORES EUROPEUS 2014 / lyre surrounded by laurel branches
MARCOS PORTUGAL / REPUBLICA PORTUGUESA 1762-1830 / bust facing and coat of arms
Coin value - 6-10 USD
List of all commemorative euro coins of Portugal - chart with prices
| | | | | | | | |
| --- | --- | --- | --- | --- | --- | --- | --- |
| Year | Face value | Mintage | Theme | Alloy | Diameter (mm) | Weight (gr) | Price in Euro |
| 2007 | 2 | 1300000 | Portuguese Presidency of the EU | bimetallic | 25,75 | 8,5 | 4 |
| 2007 | 2 | 1550000 | 50th anniversary of the signing of the Treaty of Rome | bimetallic | 25,75 | 8,5 | 4 |
| 2008 | 1,5 | 350000 | Coin against indifference | copper-nickel | 26,5 | 8 | 8 |
| 2008 | 2 | 1035000 | 60 years of the Declaration of Human Rights | bimetallic | 25,75 | 8,5 | 5 |
| 2008 | 2,5 | 150000 | Cultural Heritage of Europe - FADU | copper-nickel | 28 | 10 | 11 |
| 2008 | 2,5 | 487500 | 2008 XXIX Summer Olympics in Beijing | copper-nickel | 28 | 10 | 8 |
| 2008 | 2,5 | 95000 | Porto Historic Centre | copper-nickel | 28 | 10 | 7 |
| 2008 | 2,5 | 90000 | Alto Douro Wine Region | copper-nickel | 28 | 10 | 7 |
| 2009 | 1,5 | 100000 | Golden Morabitino | copper-nickel | 26,5 | 8 | 6 |
| 2009 | 2 | 1285000 | 10th anniversary of the Economic and Monetary Union | bimetallic | 25,75 | 8,5 | 4 |
| 2009 | 2 | 1285000 | 2nd sports games of Portuguese-speaking countries | bimetallic | 25,75 | 8,5 | 5 |
| 2009 | 2,5 | 150000 | Portuguese | copper-nickel | 28 | 10 | 6 |
| 2009 | 2,5 | 150000 | Belen Tower in Lisbon | copper-nickel | 28 | 10 | 6 |
| 2009 | 2,5 | 150000 | Hieronymite Monastery in Lisbon | copper-nickel | 28 | 10 | 6 |
| 2010 | 2,5 | 120000 | 2010 FIFA World Cup South Africa | copper-nickel | 28 | 10 | 7 |
| 2010 | 1,5 | 100000 | One coin against hunger | copper-nickel | 26,5 | 8 | 4 |
| 2010 | 2 | 1035000 | 100 years of the Portuguese Republic | bimetallic | 25,75 | 8,5 | 4 |
| 2010 | 2,5 | 120000 | Tereiro do Paco Square | copper-nickel | 28 | 10 | 6 |
| 2010 | 2,5 | 120000 | 200 years of the Torres Vedrash line | copper-nickel | 28 | 10 | 6 |
| 2010 | 2,5 | 120000 | Koa Valley Archaeological Park | copper-nickel | 28 | 10 | 6 |
| 2010 | 5 | 150000 | Justo King João II | copper-nickel | 30 | 14 | 11 |
| 2011 | 2 | 500000 | 500 years since the birth of Fernand Mendes Pinto | bimetallic | 25,75 | 8,5 | 7 |
| 2011 | 2,5 | 100000 | Ermenedgild Capella and Roberto Ivens | copper-nickel | 28 | 10 | 6 |
| 2011 | 2,5 | 100000 | 100 years of the military institute of Portugal | copper-nickel | 28 | 10 | 6 |
| 2011 | 2,5 | 100000 | Picou Island Wine Landscape | copper-nickel | 28 | 10 | 6 |
| 2011 | 2,5 | 100000 | Centenary of the University of Lisbon 1911-2011 | copper-nickel | 28 | 10 | 7 |
| 2011 | 7,5 | 100000 | Portugal King Manuel I | copper-nickel | 33 | 18,5 | 12 |
| 2011 | 10 | 100000 | 25 years of accession to the European Economic Community | copper-nickel | 40 | 27 | 16 |
| 2012 | 2 | 520000 | Guimaraes - Cultural Capital of Europe | bimetallic | 25,75 | 8,5 | 5 |
| 2012 | 2 | 520000 | 10 years of euro cash circulation | bimetallic | 25,75 | 8,5 | 5 |
| 2012 | 2,5 | 100000 | European artists: Jose Maloa | copper-nickel | 28 | 10 | 6 |
| 2012 | 2,5 | 300000 | London 2012 Olympic Games | copper-nickel | 28 | 10 | 7 |
| 2012 | 2,5 | 100000 | Guimaraes Historical Centre | copper-nickel | 28 | 10 | 6 |
| 2012 | 2,5 | 100000 | Training ship Sagresh | copper-nickel | 28 | 10 | 6 |
| 2012 | 5 | 150000 | Numismatic treasures. Coin Juan 5th 1722g | copper-nickel | 30 | 14 | 10 |
| 2012 | 10 | 100000 | 20 Years of Ibero - American Coin Series | copper-nickel | 40 | 27 | 16 |
| 2013 | 2 | 520000 | 250 years of Clerigouche Church | bimetallic | 25,75 | 8,5 | 3 |
| 2013 | 2,5 | 100000 | Portuguese writers. Jose Saramago | copper-nickel | 28 | 10 | 6 |
| 2013 | 2,5 | 100000 | 150 years of Red Cross founding | copper-nickel | 28 | 10 | 6 |
| 2013 | 2,5 | 100000 | Portuguese ethnography. Earrings of Viana do Castelo | copper-nickel | 28 | 10 | 6 |
| 2013 | 2,5 | 100000 | 100 years since the birth of Joao Villaret | copper-nickel | 28 | 10 | 6 |
| 2013 | 2,5 | 100000 | Portuguese submarine Swordfish | copper-nickel | 28 | 10 | 6 |
| 2013 | 2,5 | 100000 | World Heritage: Elvis Fortifications | copper-nickel | 28 | 10 | 6 |
| 2013 | 5 | 150000 | Numismatic treasures. Coin of Mary II | copper-nickel | 30 | 14 | 10 |
| 2014 | 2 | 525000 | 40 years of the Carnation Revolution - April 25, 1974 | bimetallic | 25,75 | 8,5 | 3 |
| 2014 | 2 | 520000 | International Year of Family Farming | bimetallic | 25,75 | 8,5 | 3 |
| 2014 | 5 | 75000 | Queen Eleanor | copper-nickel | 30 | 14 | 10 |
| 2014 | 2,5 | 100000 | Brazilian Football Championship | copper-nickel | 28 | 10 | 5 |
| 2014 | 2,5 | 100000 | Marcos Portugal composer | copper-nickel | 28 | 10 | 5 |
| 2014 | 2,5 | 100000 | "Yarmo" | copper-nickel | 28 | 10 | 5 |
| 2014 | 2,5 | 75000 | 100 Years of Aviation | copper-nickel | 28 | 10 | 5 |
| 2014 | 2,5 | 50000 | 35 Years of Health in Portugal | copper-nickel | 28 | 10 | 5 |
| 2014 | 2,5 | 50000 | Coimbra. University of Coimbra | copper-nickel | 28 | 10 | 5 |
| 2015 | 2 | 5000000 | 500-year relationship with Timor Island | bimetallic | 25,75 | 8,5 | 3 |
| 2015 | 2 | 500000 | 150 years since the founding of the Portuguese Red Cross | bimetallic | 25,75 | 8,5 | 3 |
| 2015 | 2 | 520000 | 30th anniversary of the European flag | bimetallic | 25,75 | 8,5 | 3 |
| 2015 | 2,5 | 75000 | The intangible heritage of mankind is Fadu. Guitar | copper-nickel | 28 | 10 | 5 |
| 2015 | 2,5 | 100000 | 70 years of peace in Europe. Pigeons | copper-nickel | 28 | 10 | 5 |
| 2015 | 7,5 | 75000 | "Viriat" | copper-nickel | 33 | 18,5 | 12 |
| 2015 | 2,5 | 75000 | 40 years of the Ombudsman (jurist of justice) | copper-nickel | 28 | 10 | 5 |
| 2015 | 5 | 75000 | Isabella of Portugal, Duchess of Burgundy | copper-nickel | 30 | 12 | 10 |
| 2015 | 2,5 | 100000 | Covered from Castelu Branco. Flower | copper-nickel | 28 | 10 | 5 |
| 2015 | 2,5 | 150000 | 2016 Summer Olympics. Road to Rio | copper-nickel | 28 | 10 | 5 |
| 2015 | 2,5 | 100000 | Climate change | copper-nickel | 28 | 10 | 5 |
| 2016 | 2 | 500000 | 2016 Summer Olympics in Rio de Janeiro | bimetallic | 25,75 | 8,5 | 4 |
| 2016 | 2 | 500000 | 50 years of the bridge "Name April 25" | bimetallic | 25,75 | 8,5 | 3 |
| 2016 | 2,5 | 75000 | Ethnography of Portugal "Figurado de Barcelona" | copper-nickel | 28 | 10 | 4 |
| 2016 | 5 | 75000 | Iberian lynx | copper-nickel | 30 | 10 | 10 |
| 2016 | 5 | 12500 | 500 years since the death of the artist Jerome Bosch | copper-nickel | 29 | 10,5 | 15 |
| 2016 | 5 | 75000 | Queen Katarina of Braganza | copper-nickel | 30 | 10 | 10 |
| 2016 | 2,5 | 75000 | Music "Cante Alentejano" | copper-nickel | 28 | 10 | 4 |
| 2016 | 2,5 | 75000 | Opening of the Money Museum | copper-nickel | 28 | 10 | 4 |
| 2016 | 5 | 100000 | Modernism | copper-nickel | 30 | 14 | 8 |
| 2017 | 2 | 500000 | 150 years of the Public Security Police | bimetallic | 25,75 | 8,5 | 4 |
| 2017 | 2 | 500000 | 150 years since the birth of writer Raul Brandan | bimetallic | 25,75 | 8,5 | 3 |
| 2017 | 2,5 | 150000 | 100th anniversary of Revelation of the Blessed Virgin Mary in Fatima | copper-nickel | 28 | 10 | 4 |
| 2017 | 2,5 | 75000 | Careto Carnival in Traz-ush-Montes (Caretos Trás-os-Montes) | copper-nickel | 28 | 10 | 4 |
| 2017 | 5 | 60000 | Iron and glass | copper-nickel | 30 | 14 | 9 |
| 2017 | 5 | 60000 | Barbara Braganza Queen of Spain | copper-nickel | 30 | 14 | 9 |
| 2017 | 5 | 60000 | | copper-nickel | 30 | 14 | 9 |
| 2018 | 2 | 500000 | 250 years of the National Printing House and Mint | bimetallic | 25,75 | 8,5 | 3 |
| 2018 | 2 | 500000 | 250 years of the Botanical Garden of Ajoudi | bimetallic | 25,75 | 8,5 | 3 |
| 2018 | 2,5 | 150000 | 2018 World Cup in Russia | copper-nickel | 28 | 10 | 5 |
| 2018 | 5 | 60000 | "Baroque" | copper-nickel | 30 | 14 | 8 |
| 2018 | 5 | 60000 | "Four-leaf clover" | copper-nickel | 30 | 14 | 8 |
| 2018 | 5 | 60000 | "Burial ground" endangered species - imperial eagle | copper-nickel | 30 | 14 | 8 |
| 2018 | 2,5 | 60000 | Granaries in the north-west of Portugal (Espigueiros do noroeste) | copper-nickel | 28 | 10 | 5 |
| 2018 | 5 | 60000 | "100th anniversary of the armistice" (end of World War 1) | copper-nickel | 30 | 14 | 8 |
| 2019 | 2 | 750000 | 500 years of Magellan's circumnavigation | bimetallic | 25,75 | 8,5 | 3 |
| 2019 | 2 | 500000 | 600 years of discovery of the island of Madeira | bimetallic | 25,75 | 8,5 | 3 |
| 2019 | 5 | 40000 | | copper-nickel | 30 | 14 | 8 |
| 2019 | 5 | 40000 | | copper-nickel | 30 | 14 | 8 |
| 2019 | 5 | 40000 | 45th anniversary of the carnation revolution | copper-nickel | 30 | 14 | 8 |
| 2019 | 5 | 40000 | Tuberaria Major - Flower | copper-nickel | 30 | 14 | 8 |
| 2019 | 5 | 40000 | Iberian wolf | copper-nickel | 30 | 14 | 8 |
| 2020 | 2 | 350000 | 730 years to the University of Coimbra | bimetallic | 25,75 | 8,5 | 4 |
| 2020 | 2 | 350000 | 75 years of the UN | bimetallic | 25,75 | 8,5 | 3 |
| 2020 | 2,5 | 50000 | European Football Championship 2020 | copper-nickel | 28 | 10 | 13 |
| 2020 | 5 | 25000 | World Portuguese Language Day | copper-nickel | 30 | 14 | 8 |
| 2020 | 5 | 25000 | | copper-nickel | 30 | 14 | 12 |
| 2020 | 5 | 45000 | 500 years of Portuguese mail | copper-nickel | 30 | 14 | 8 |
| 2020 | 5 | 45000 | | copper-nickel | 30 | 14 | 8 |
| 2020 | 7,5 | 50000 | 500 years of Magellan's circumnavigation | copper-nickel | 33 | 13,5 | 10 |
| 2020 | 7,5 | 25000 | architect - Gonzalo Byrne | copper-nickel | 33 | 13,5 | 12 |
| 2021 | 2 | 500000 | 2020 Summer Olympics | bimetallic | 25,75 | 8,5 | 4 |
| 2021 | 2 | 500000 | Presidency of the EU Council | bimetallic | 25,75 | 8,5 | 3 |
| 2021 | 5 | 25000 | Sea horse | copper-nickel | 30 | 14 | 12 |
| 2021 | 5 | 25000 | Aristides de Souza Mendes | copper-nickel | 30 | 14 | 12 |
| 2021 | 5 | 25000 | | copper-nickel | 30 | 14 | 12 |
| 2021 | 5 | 25000 | The Art of Lacquer | copper-nickel | 30 | 13,35 | 12 |
| 2022 | 2 | 1000000 | Centenary of the first South Atlantic air crossing | bimetallic | 25,75 | 8,5 | 3 |
| 2022 | 2 | 750000 | 35th anniversary of the Erasmus program | bimetallic | 25,75 | 8,5 | 4 |
| 2022 | 5 | 30000 | | copper-nickel | 30 | 14 | 10 |
| 2022 | 5 | 30000 | | copper-nickel | 30 | 14 | 10 |
| 2022 | 5 | 30000 | The Art of Porcelain | copper-nickel | 30 | 13,35 | 10 |
| 2022 | 5 | 30000 | 30 years Euro | copper-nickel | 30 | 14 | 10 |
Portuguese euro coins description
Portuguese Republic (port. Republica Portuguesa)
Capital: Lisbon Area: 92090 km2
Population: 10.487 million (2012)
Official language: Portuguese
Currency before the introduction of the euro: Portuguese escudo = 100 centavos
Euro introduction date: 1 January 1999 in cash, 1 January 2002 in cash
Head of State: President
Form of government: parliamentary republic

At first glance, the euro coins of the Portuguese Republic may give the impression that they all have a single national side design.
Each of the three nominal groups bears the seal of the first king of Portugal, Afonso I, of 1134, 1142 and 1144. surrounded by seven stylized castles and five Portuguese coats of arms. Designed by Vitor Manuel 32 Fernandez dos Santos.
After the death in 1112 of Afonso's father, Count Henry of Burgundy of Portugal (and at that time the country was feudally dependent on the kingdom of Leon and Castile), the power was taken over by little Afonso's mother, Teresa of Leon.
Relations between Afonso and his mother were quite tense. Already at the age of 11, the boy had his own political views, in 1120 he took the side of Teresa's political opponent, the Archbishop of Braga. As a result, the young prince and archbishop spent several years in exile.
In 1122, Afonso turned 14 years old, by the standards of the XII century. he came of age. He made himself a knight, raised an army and decided to take back control of his lands. In 1128, at Guimarães, he defeated his mother's troops. So he regained his rightful title of Count of Portugal. In addition, he defeated Alfonso's mother's ally Raymond of Castile, thus freeing the country from the political dependence of the kingdom of León and Castile.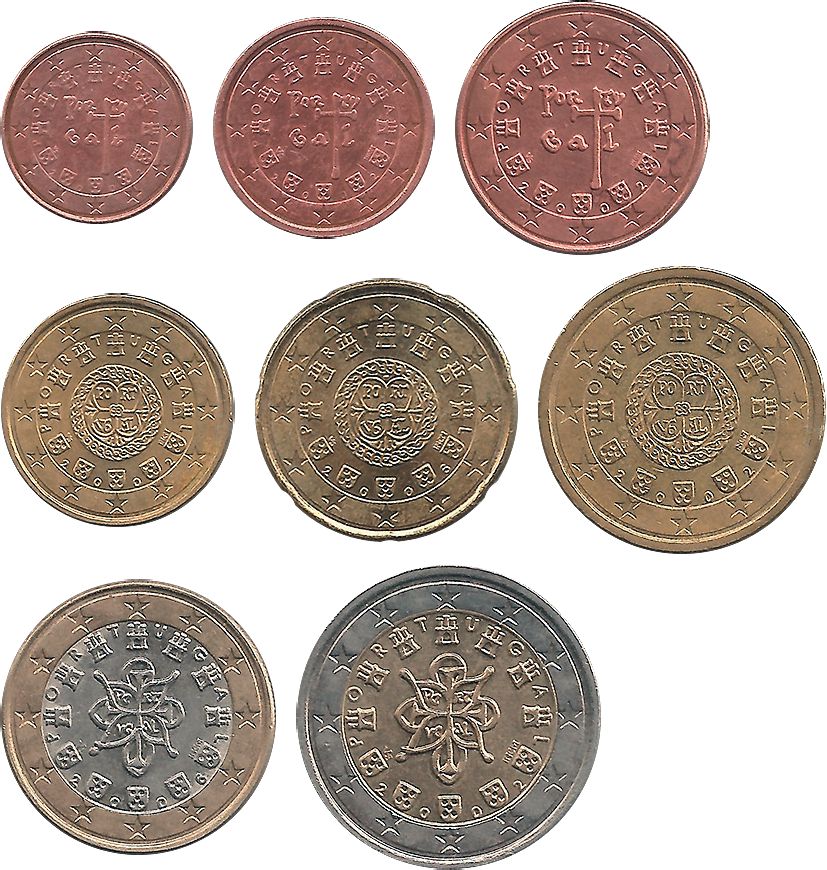 On June 26, 1139, after the victory over the Moors in the battle of Ourik, Afonso was proclaimed king. In 1179, Pope Alexander III in his bull recognized Afonso as the king of Portugal as an independent state with the right to conquer the lands of the Moors. So Portugal finally established itself as an independent state.