Dutch euro coins catalog with values
Previous -
Dutch coins before euro
Circulation euro coins of Netherlands
Beatrix (1980-2013)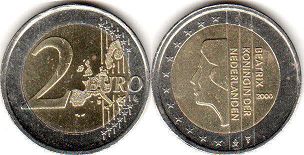 2 euro 2000 (1999-2006)
bi-metallic - nickel-brass/copper-nickel
2 EURO
BEATRIX KONINGIN DER NEDERLANDEN / 2000
Coin value - 3-4 USD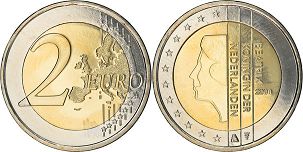 2 euro 2008 (2007-2013)
bi-metallic - nickel-brass/copper-nickel
2 EURO
BEATRIX KONINGIN DER NEDERLANDEN / 2008
Coin value - 7-10 USD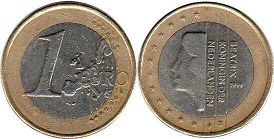 1 euro 1999 (1999-2006)
bi-metallic - copper-nickel/nickel-brass
1 EURO
BEATRIX KONINGIN DER NEDERLANDEN / 1999
Coin value - 2-3 USD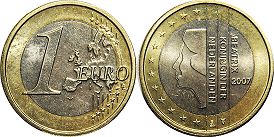 1 euro 2007 (2007-2013)
bi-metallic - copper-nickel/nickel-brass
1 EURO
BEATRIX KONINGIN DER NEDERLANDEN / 2007
Coin value - 6-8 USD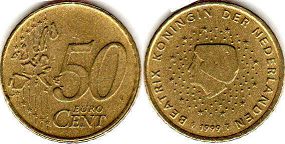 50 euro cent 1999 (1999-2006)
brass
50 EURO CENT
BEATRIX KONINGIN DER NEDERLANDEN / 1999
Coin value - ~1 USD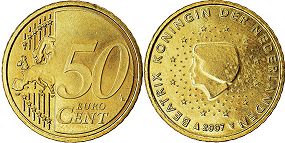 50 euro cent 2007 (2007-2013)
brass
50 EURO CENT
BEATRIX KONINGIN DER NEDERLANDEN / 2007
Coin value - 3-5 USD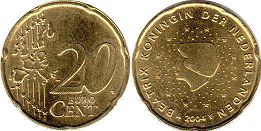 20 euro cent 2004 (1999-2006)
brass
20 EURO CENT
BEATRIX KONINGIN DER NEDERLANDEN / 2004
Coin value - <1 USD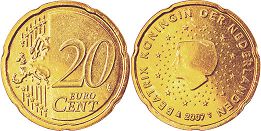 20 euro cent 2007 (2007-2013)
brass
20 EURO CENT
BEATRIX KONINGIN DER NEDERLANDEN / 2007
Coin value - 3-5 USD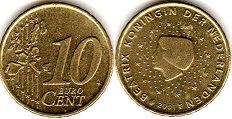 10 euro cent 2001 (1999-2006)
brass
10 EURO CENT
BEATRIX KONINGIN DER NEDERLANDEN / 2001
Coin value - <1 USD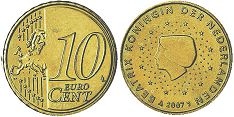 10 euro cent 2007 (2007-2013)
brass
10 EURO CENT
BEATRIX KONINGIN DER NEDERLANDEN / 2007
Coin value - 2-4 USD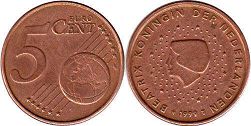 5 euro cent 1999 (1999-2013)
copper plated steel
5 EURO CENT
BEATRIX KONINGIN DER NEDERLANDEN / 1999
Coin value - <1 USD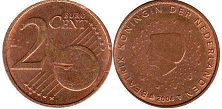 2 euro cent 2004 (1999-2013)
copper plated steel
2 EURO CENT
BEATRIX KONINGIN DER NEDERLANDEN / 2004
Coin value - <1 USD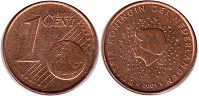 1 euro cent 2001 (1999-2013)
copper plated steel
1 EURO CENT
BEATRIX KONINGIN DER NEDERLANDEN / 2001
Coin value - <1 USD
William-Alexander (since 2013)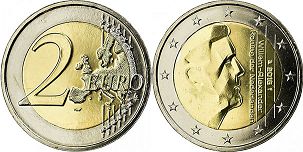 2 euro 2016 (2014- )
bi-metallic - nickel-brass/copper-nickel
2 EURO
WILLEM-ALEXANDER KONING DER NEDERLANDEN / 2016
Coin value - 8-12 USD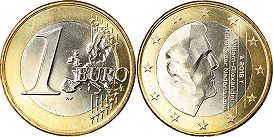 1 euro 2016 (2014- )
bi-metallic - copper-nickel/nickel-brass
1 EURO
WILLEM-ALEXANDER KONING DER NEDERLANDEN / 2016
Coin value - 8-10 USD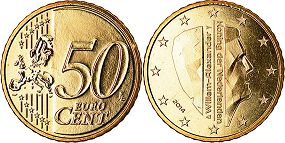 50 euro cent 2014 (2014- )
brass
50 EURO CENT
WILLEM-ALEXANDER KONING DER NEDERLANDEN / 2014
Coin value - 3-5 USD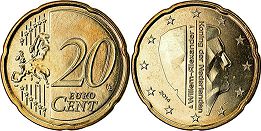 20 euro cent 2014 (2014- )
brass
20 EURO CENT
WILLEM-ALEXANDER KONING DER NEDERLANDEN / 2014
Coin value - 1-2 USD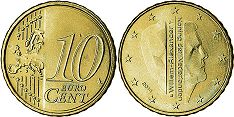 10 euro cent 2014 (2014- )
brass
10 EURO CENT
WILLEM-ALEXANDER KONING DER NEDERLANDEN / 2014
Coin value - 1-2 USD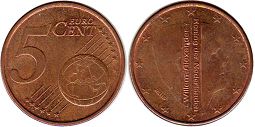 5 euro cent 2016 (2014- )
copper plated steel
5 EURO CENT / globe
WILLEM-ALEXANDER KONING DER NEDERLANDEN / 2016
Coin value - <1 USD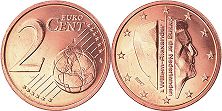 2 euro cent 2017 (2014- )
copper plated steel
2 EURO CENT / globe
WILLEM-ALEXANDER KONING DER NEDERLANDEN / 2017
Coin value - 2-4 USD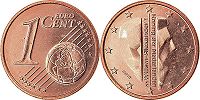 1 euro cent 2019 (2014- )
copper plated steel
1 EURO CENT / globe
WILLEM-ALEXANDER KONING DER NEDERLANDEN / 2019
Coin value - 2-4 USD
Commemorative euro coins of Netherlands - chart with prices
| | | | | | | | |
| --- | --- | --- | --- | --- | --- | --- | --- |
| Year | Face value | Mintage | Theme | Alloy | Diameter (mm) | Weight (gr) | Price in Euro |
| 2007 | 2 | 6233000 | 50th anniversary of the signing of the Treaty of Rome | bimetallic | 25,75 | 8,5 | 4 |
| 2008 | 5 | 350000 | Architecture Niederland | copper cover silver | 29 | 10,5 | 13 |
| 2009 | 2 | 5202000 | 10th anniversary of the Economic and Monetary Union | bimetallic | 25,75 | 8,5 | 4 |
| 2009 | 5 | 303209 | 400 years of Netherlands Manhattan | copper cover silver | 29 | 10,5 | 12 |
| 2009 | 5 | 343859 | 400 years of Dutch-Japanese trade relations | copper cover silver | 29 | 10,5 | 12 |
| 2010 | 5 | 272010 | 150 years of the novel Max Havelaar | copper cover silver | 29 | 10,5 | 10 |
| 2010 | 5 | 227500 | Netherlands - Water Country | copper cover silver | 29 | 10,5 | 10 |
| 2011 | 2 | 4002000 | 500 years in the book Praise of Stupidity by Erasmus of Rotterdam | bimetallic | 25,75 | 8,5 | 9 |
| 2011 | 5 | 71618 | 100 years of mint building | copper cover silver | 29 | 10,5 | 18 |
| 2011 | 5 | 322400 | 50 years to the World Wildlife Fund | copper cover silver | 29 | 10,5 | 10 |
| 2011 | 5 | 230000 | Painting of the Netherlands | copper cover silver | 29 | 10,5 | 10 |
| 2012 | 2 | 3502500 | 10 years of euro cash circulation | bimetallic | 25,75 | 8,5 | 3 |
| 2012 | 5 | 250000 | 400 years of diplomatic relations between the Netherlands and Turkey (tulip) | copper cover silver | 29 | 10,5 | 10 |
| 2012 | 5 | 220000 | Amsterdam Channels | copper cover silver | 29 | 10,5 | 10 |
| 2012 | 5 | 220000 | Sculpture | copper cover silver | 29 | 10,5 | 10 |
| 2013 | 2 | 20000000 | Queen Beatrix and Prince Willem Alexander | bimetallic | 25,75 | 8,5 | 3 |
| 2013 | 2 | 3500000 | 200 years to the Kingdom of the Netherlands | bimetallic | 25,75 | 8,5 | 3 |
| 2013 | 5 | 220000 | 300 years of the Utrecht agreement | copper cover silver | 29 | 10,5 | 10 |
| 2013 | 5 | 220000 | Schroeder House | copper cover silver | 29 | 10,5 | 10 |
| 2013 | 5 | 220000 | Peace Palace in The Hague | copper cover silver | 29 | 10,5 | 10 |
| 2013 | 10 | 400000 | King Willem-Alexander of the Netherlands | copper cover silver | 33 | 15,5 | 18 |
| 2014 | 5 | 220000 | 200 years for a jar | copper cover silver | 29 | 10,5 | 10 |
| 2014 | 5 | 220000 | Windmills | copper cover silver | 29 | 10,5 | 10 |
| 2014 | 2 | 5000000 | King Willem Alexander and Princess Beatrix | bimetallic | 25,75 | 8,5 | 3 |
| 2015 | 5 | 250000 | Battle of Waterloo | copper cover silver | 29 | 10,5 | 10 |
| 2015 | 2 | 1000000 | 30th anniversary of the European flag | bimetallic | 25,75 | 8,5 | 3 |
| 2015 | 5 | 211000 | Nellefabrik | copper cover silver | 29 | 10,5 | 10 |
| 2016 | 5 | 158000 | 500 years since the birth of Jerome Bosch | copper cover silver | 29 | 10,5 | 10 |
| 2016 | 5 | 158000 | Vaddenze | copper cover silver | 29 | 10,5 | 10 |
| 2017 | 10 | 800000 | 50 years old to King Willem-Alexander of the Netherlands | copper cover silver | 38 | 15,5 | 17 |
| 2017 | 5 | 50000 | 70 years since the birth of Johan Cruyff | copper cover silver | 29 | 10,5 | 20 |
| 2017 | 5 | 158000 | 150 years of the Red Cross of the Netherlands | copper cover silver | 29 | 10,5 | 10 |
| 2017 | 5 | 46500 | Defenses Polder Bemster | copper cover silver | 29 | 10,5 | 10 |
| 2018 | 5 | 50000 | Leeuwarden - Cultural Capital of Europe | copper cover silver | 29 | 10,5 | 8 |
| 2018 | 5 | 60000 | 100 years since the birth of athlete Fanny Blankers-Kuhn | copper cover silver | 29 | 10,5 | 8 |
| 2018 | 5 | 50000 | UNESCO World Heritage - Schockland | copper cover silver | 29 | 10,5 | 8 |
| 2018 | 5 | 50000 | 100 years since the founding of Wageningen University | copper cover silver | 29 | 10,5 | 8 |
| 2019 | 5 | 60000 | | copper cover silver | 29 | 10,5 | 8 |
| 2019 | 5 | 60000 | Jaap Eden - speed skater | copper cover silver | 29 | 10,5 | 8 |
| 2019 | 5 | 60000 | Bemster is a community in the province of North Holland | copper cover silver | 29 | 10,5 | 8 |
| 2019 | 5 | 60000 | 75 years of Operation Market Garden | copper cover silver | 29 | 10,5 | 8 |
| 2020 | 5 | 60000 | Wauda Steam Pump Station | copper cover silver | 29 | 10,5 | 8 |
| 2020 | 5 | 60000 | 75 Years of Peace and Freedom | copper cover silver | 29 | 10,5 | 8 |
| 2021 | 5 | | Inner City and Willemstad Harbour | copper cover silver | 29 | 10,5 | |
| 2021 | 5 | 50000 | 40 years of NOS Jeugdjournaal (TV program for children) | copper cover silver | 29 | 10,5 | 8 |
| 2021 | 5 | 50000 | Anton Gesink | copper cover silver | 29 | 10,5 | 8 |
| 2022 | 2 | 577500 | 35th anniversary of the Erasmus program | bimetallic | 25,75 | 8,5 | 4 |
| 2022 | 5 | 50000 | 30th anniversary of the signing of the Maastricht Treaty | copper cover silver | 29 | 10,5 | 8 |
| 2022 | 5 | 50000 | 150 years since the birth of artist Pete Mondrian | copper cover silver | 29 | 10,5 | 8 |
Netherlands euro coins description
Kingdom of the Netherlands (Nid. Koninkrijk der Nederlanden)
Capital: Amsterdam Area: 41528 km2
Population: 16.78 million (2013)
Official language: Dutch
Currency before the introduction of the euro: Netherlands guilder = 100 cents
of the euro: from January 1, 1999, from January 1, 2002 in cash
Head of State: King
Form of government: constitutional monarchy




On the coins of the entire nominal series of euro coins of the Kingdom of the Netherlands, a profile portrait of Queen Beatrix of the Netherlands surrounded by 12 stars is engraved, along the circumference there is a text in the Dutch language: BEATRIX KONINGIN DER NEDERLANDEN (BEATRIX IS THE QUEEN OF THE NETHERLANDS). The image was made by the famous Dutch jewelry and industrial designer Bruno Ninaber van Eyben (b. 1950), who, by the way, also designed the designs of the latest coins denominated in Dutch guilders. In addition, the coins bear the mark of the Royal Netherlands Mint in Utrecht and its CEO. Just like in Belgium, the Dutch mint has a tradition of putting on the coins the sign of its general director (officially - "minzmeister"). Since the management of the mint changed, the signs on the coins also changed.
Minzmeisters of the Mint in Utrecht and their designations:
• 1999 - Chris van Draanen (Chris van Draanen) - bow and arrow,
• 2000 - and. O. minzmeister Erik J. van Schouwenburg - a bow with an arrow and a star,
• 2001 - Robert Bruens (Robert Bruens) - a bunch of grapes,
• 2002 - and. O. minzmeister Maarten Brouwer - a bunch of grapes with a star,
• 2003 — present. temp. — Maarten Brouwer
Brouwer is a sailboat. The staff of Mercury is the hallmark of the Royal Netherlands Mint. Despite the fact that the country has its own mint, in 2000 and 2001. the minting of 2-euro coins in Great Britain was also ordered:
• 2000 — at the Birmingham Mint yard - 30 million;
• 2001 - at the Royal Mint
Great Britain - 20 million. However, these coins do not have any special differences from the coins minted in Utrecht.
Despite the fact that coins of all denominations are issued, in practice coins of 1 and 2 euro cents have often not been used since 2004 - the total amounts are rounded up to 5 euro cents. At the same time, prices in the country's stores are indicated with an accuracy of € 0.01. This method is known as "Swedish rounding". The same rounding method is used in Finland.
During a television appearance on January 28, 2013, on the eve of her 75th birthday, Queen Beatrix of the Netherlands announced that she had decided to abdicate in favor of 45-year-old Willem-Alexander, her eldest son.
The coming to power of the new king took place on April 30, 2013. Willem-Alexander became the first Dutch king after more than a century of interruption.
On October 31, 2013, the design of a new type of euro coins of the Netherlands of the regular mint was presented. Their author was a photographer from Hilversum Erwin Olaf (Erwin Olaf, b. 1959). The first numismatic sets with coins of the new design were released in February 2014.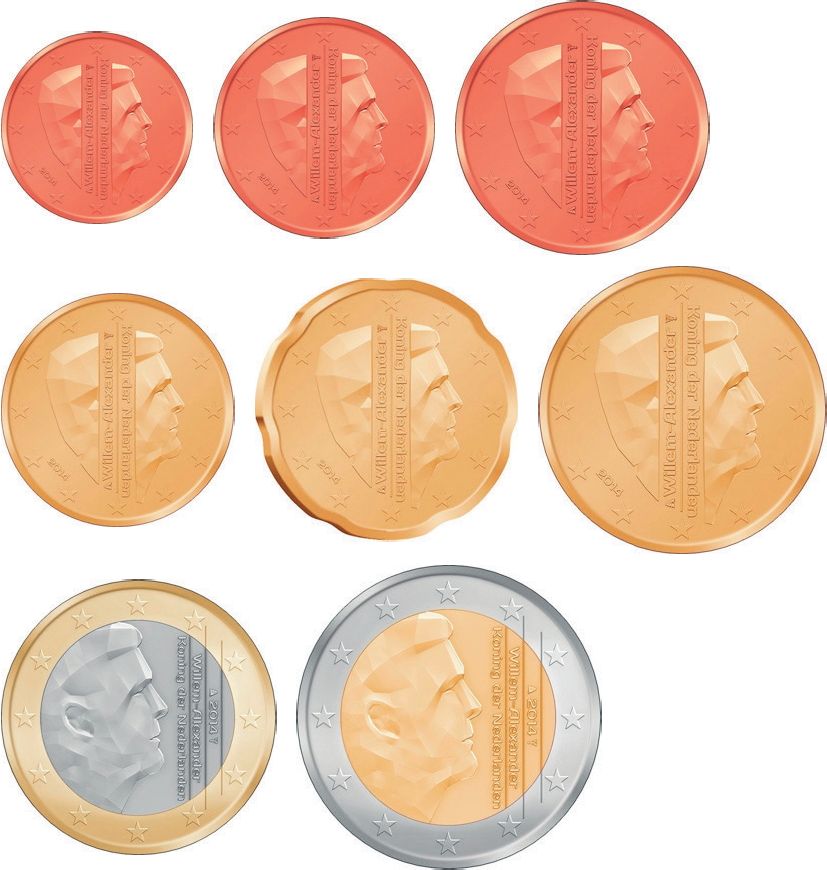 Dutch coins of 2014 of all denominations