Luxembourgish euro coins catalog with values
Previous -
Luxembourgish coins before euro
Circulation euro coins of Luxembourg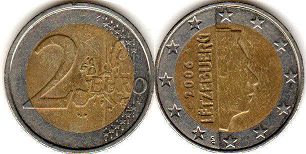 2 euro 2006 (2002-2006)
bi-metallic - nickel-brass/copper-nickel
2 EURO
LETZEBUERG 2006
Coin value - 3-4 USD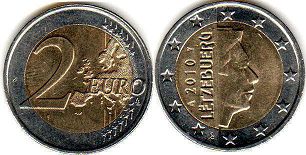 2 euro 2010 (2007- )
bi-metallic - nickel-brass/copper-nickel
2 EURO
LETZEBUERG 2010
Coin value - 3-4 USD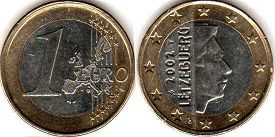 1 euro 2002 (2002-2006)
bi-metallic - copper-nickel/nickel-brass
1 EURO
LETZEBUERG 2002
Coin value - 2-3 USD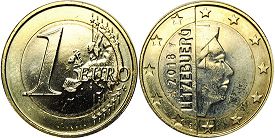 1 euro 2018 (2007- )
bi-metallic - copper-nickel/nickel-brass
1 EURO
LETZEBUERG 2018
Coin value - 3-4 USD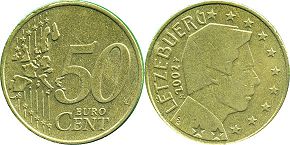 50 euro cent 2002 (2002-2006)
brass
50 EURO CENT
LETZEBUERG 2002
Coin value - 1-2 USD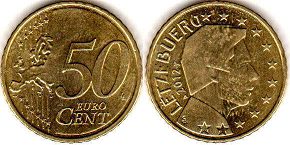 50 euro cent 2012 (2007- )
brass
50 EURO CENT
LETZEBUERG 2012
Coin value - ~1 USD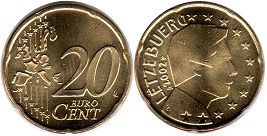 20 euro cent 2002 (2002-2006)
brass
20 EURO CENT / members of the EU on the map of Europe
LETZEBUERG 2002
Coin value - <1 USD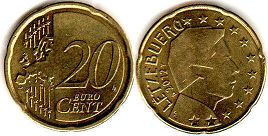 20 euro cent 2012 (2007- )
brass
20 EURO CENT
LETZEBUERG 2012
Coin value - <1 USD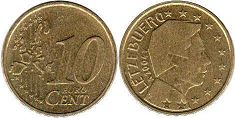 10 euro cent 2004 (2002-2006)
brass
10 EURO CENT
LETZEBUERG 2004
Coin value - <1 USD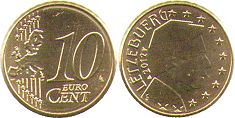 10 euro cent 2012 (2007- )
brass
10 EURO CENT
LETZEBUERG 2012
Coin value - <1 USD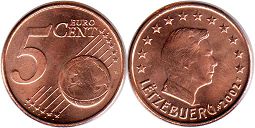 5 euro cent 2002 (2002- )
copper plated steel
5 EURO CENT
LETZEBUERG 2002
Coin value - <1 USD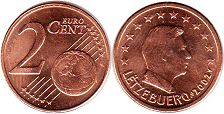 2 euro cent 2002 (2002- )
copper plated steel
2 EURO CENT
LETZEBUERG 2002
Coin value - <1 USD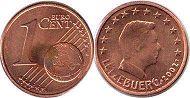 1 euro cent 2002 (2002- )
copper plated steel
1 EURO CENT
LETZEBUERG 2002 / head right
Coin value - <1 USD
Commemorative euro coins of Luxembourg - chart with prices
| | | | | | | | |
| --- | --- | --- | --- | --- | --- | --- | --- |
| Year | Face value | Mintage | Theme | Alloy | Diameter (mm) | Weight (gr) | Price in Euro |
| 2004 | 2 | 2497800 | Grand Duke of Luxembourg Henri and his monogram | bimetallic | 25,75 | 8,5 | 6 |
| 2005 | 2 | 2770000 | Three Anniversary | bimetallic | 25,75 | 8,5 | 6 |
| 2006 | 2 | 1045100 | 25th anniversary of Prince Guillaume | bimetallic | 25,75 | 8,5 | 6 |
| 2007 | 2 | 1025000 | Palace of the Grand Dukes | bimetallic | 25,75 | 8,5 | 5 |
| 2007 | 2 | 2040100 | 50th anniversary of the signing of the Treaty of Rome | bimetallic | 25,75 | 8,5 | 5 |
| 2008 | 2 | 1040100 | Duke of Luxembourg Henri and Berg Castle | bimetallic | 25,75 | 8,5 | 5 |
| 2009 | 2 | 800000 | 10th anniversary of the Economic and Monetary Union | bimetallic | 25,75 | 8,5 | 5 |
| 2009 | 2 | 1000000 | 90 years of accession to the throne of Duchess Charlotte | bimetallic | 25,75 | 8,5 | 5 |
| 2010 | 2 | 500000 | Coat of arms of the Grand Duke of Luxembourg | bimetallic | 25,75 | 8,5 | 10 |
| 2011 | 2 | 700000 | Title "Lieutenant Representative of the Grand Duchess" | bimetallic | 25,75 | 8,5 | 5 |
| 2012 | 2 | 700000 | 100 years of the death of Grand Duke William IV | bimetallic | 25,75 | 8,5 | 4 |
| 2012 | 2 | 500000 | The wedding of Guillaume and Stefania de Lannois | bimetallic | 25,75 | 8,5 | 7 |
| 2012 | 2 | 500000 | 10 years of euro cash circulation | bimetallic | 25,75 | 8,5 | 4 |
| 2013 | 2 | 700000 | National anthem | bimetallic | 25,75 | 8,5 | 4 |
| 2014 | 2 | 519500 | 175 years of independence of the Grand Duchy of Luxembourg | bimetallic | 25,75 | 8,5 | 4 |
| 2014 | 2 | 510000 | 50 years of accession to the throne of Grand Duke Jean | bimetallic | 25,75 | 8,5 | 4 |
| 2014 | 5 | 2500 | Coin of steel | steel | 34 | 21,85 | 50 |
| 2015 | 2 | 500000 | 15th anniversary of the accession to the throne of Grand Duke Henry | bimetallic | 25,75 | 8,5 | 4 |
| 2015 | 2 | 510000 | 30th anniversary of the European flag | bimetallic | 25,75 | 8,5 | 4 |
| 2015 | 2 | 500000 | 125th anniversary of the Nassau-Weilburg dynasty | bimetallic | 25,75 | 8,5 | 4 |
| 2016 | 2 | 500000 | 50 years of the Princess Charlotte Bridge | bimetallic | 25,75 | 8,5 | 4 |
| 2017 | 2 | 300000 | 50 years of voluntary military service in Luxembourg | bimetallic | 25,75 | 8,5 | 4 |
| 2017 | 2 | 300000 | 200 years to Grand Duke William III | bimetallic | 25,75 | 8,5 | 4 |
| 2018 | 2 | 300000 | 175 years since the death of Grand Duke Guillaume I | bimetallic | 25,75 | 8,5 | 4 |
| 2018 | 2 | 300000 | 150 years of the Luxembourg Constitution | bimetallic | 25,75 | 8,5 | 4 |
| 2019 | 2 | 300000 | 100th anniversary of the accession to the throne of Grand Duchess Charlotte | bimetallic | 25,75 | 8,5 | 3 |
| 2019 | 2 | 300000 | 100 years of universal suffrage in Luxembourg | bimetallic | 25,75 | 8,5 | 4 |
| 2020 | 2 | 300000 | 200th anniversary of the birth of Prince Henry of Orlan | bimetallic | 25,75 | 8,5 | 4 |
| 2020 | 2 | 300000 | Birth of the Heir | bimetallic | 25,75 | 8,5 | 4 |
| 2021 | 2 | 320000 | 100 years since the birth of Grand Duke Jean | bimetallic | 25,75 | 8,5 | 9 |
| 2021 | 2 | 320000 | 40 years since the birth of Duke Guillaume and the marriage of the Grand Duke | bimetallic | 25,75 | 8,5 | 9 |
| 2022 | 2 | 500000 | 10th anniversary of the wedding of Duke Guillaume and Duchess Stephanie | bimetallic | 25,75 | 8,5 | 8 |
| 2022 | 2 | 500000 | 50th anniversary of the flag of Luxembourg | bimetallic | 25,75 | 8,5 | 8 |
| 2022 | 2 | 3000000 | 35th anniversary of the Erasmus program | bimetallic | 25,75 | 8,5 | 4 |
Luxembourgish euro coins description
Grand Duchy of Luxembourg (luxury Groussherzogtum Lötzebuerg, French Grand-Duche de Luxembourg, German Grofiherzogtum Luxemburg)
Capital: Luxembourg Area: 2586.4 km2
Population: 537.0 thousand people (2012)
Official languages: Luxembourgish, French, German
Currency before the introduction of the euro: Luxembourgish franc = 100 centimes
of the euro: from 1 January 1999, from 1 January 2002 in cash
Head of State: Grand Duke
Form of government: constitutional monarchy

According to the legislation of the Grand Duchy of Luxembourg, a portrait of its monarch must be presented on all coins of this state. Previously, before the transition to the euro, in this small European state, the Luxembourg franc was used as the state currency, on the coins of which there was a portrait of the monarch on one side, and the face value on the other.
Grand Duke Henri of Luxembourg (Henri, b. 1955) has been ruling his country since October 7, 2000. After the transition to the single European currency, a profile portrait of Henri by engraver Yvette Gastauer-Claire (Yvette Gastauer-Claire, b. 1957).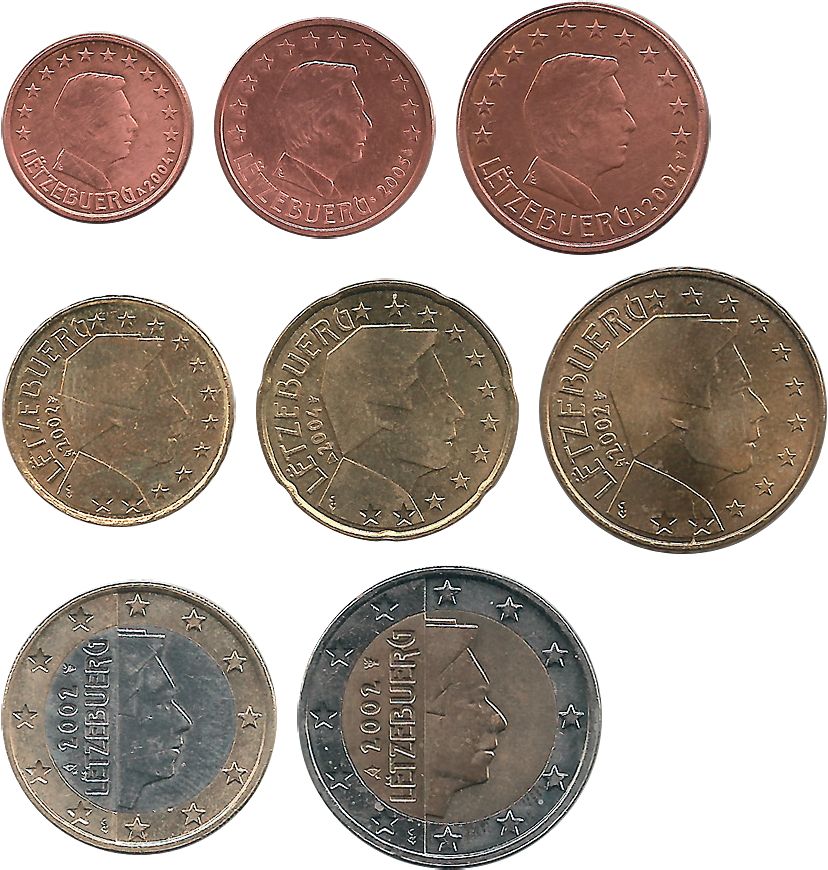 In addition, next to the portrait there is the name of the state in Luxembourgish: LЁTZEBUERG.
Henri was born on April 16, 1955 at Betzdorf Castle. The son of Grand Duke Jean and Princess Josephine-Charlotte of Belgium received his secondary education in Luxembourg, after which he studied in France, Great Britain and Switzerland. In 1980-1988 was a member of the Council of State of Luxembourg. On March 3, 1998, he was appointed representative of the Grand Duke. Became the head of state on October 7, 2000 after the abdication of his father Jean.
Luxembourg does not have its own mint, so the Grand Duchy orders the minting of euro coins in other European countries. So, coins dated 2002-2004 were minted at the Royal Mint of the Netherlands, 2005-2006. - at the Mint of Finland, 2007-2008. - at the Paris Mint, and since 2009, minting has been again made in the Netherlands. At the same time, coins of different years have mint designations corresponding to this period.