| | | |
| --- | --- | --- |
| | ONLINE COINS CATALOG | |
Spanish States coins catalog
Kingdom of Aragon
Dinero=2 obol
Alfonso I the Battler (1104-1134)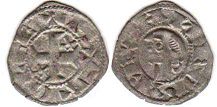 dinero ND
billon
TOLLETA
ANFVSREX
Coin value - $25-30
James (Jaime) I the Conqueror (1213-1276)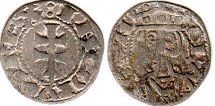 dinero ND
billon
IACOBVS REX
ARAGON
Coin value - $25-30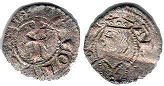 obol ND
billon
IACOBVS REX
ARAGON
Coin value - $20-25
James (Jaime) II the Fair (1291-1327)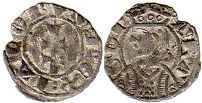 dinero ND
silver
IACOBVS REX
ARAGON
Coin value - $25-30
Peter (Pedro) IV the Ceremonious (1335-1387)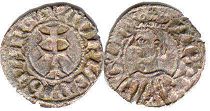 dinero ND
silver
PETRVS DI GRAREX
ARAGON
Coin value - $25-30
Real=34 maravedi; Maravedi=2 dinero
Philip (Felipe) III (king of Spain as Philipp IV) (1598-1621)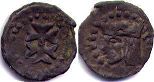 dinero ND
copper
ARAGONVM REX FECHA
PHILIPPVS III D G
Coin value - $10-15
Charles (Carlos) II king of Spain (1665-1700)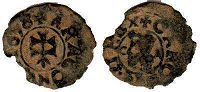 dinero 1678
copper
ARAGONVM 1678
CAROLVS II D G
Coin value - $10-15
Philipp (Felipe) IV (king of Spain as Philipp V) (1700-1746)


dinero ND
copper
Coin value - $10-15
County of Barcelona
dinero
James (Jaime) I king of Aragon (1213-1276)

dinero ND
billon
BARCINO
IACOB REX
Coin value - $20-25

dinero ND
billon
BARQVINONA
IACOB REX
Coin value - $20-25
James (Jaime) II king of Aragon (1327-1335)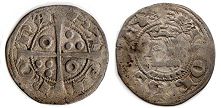 dinero ND
billon
BAQVINONA
IACOBVS REX
Coin value - $20-25
Croat=9 ardite; Ardite=2 dineros
Ferdinand (Fernando) II king of Aragon (1479-1506)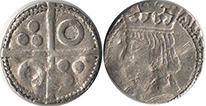 croat ND
silver
CIVITAS BARCKNONA
FERDINANDVS D G REX
Coin value - $35-40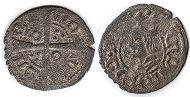 dinero ND
billon
BARCINO
FERDIN D G
Coin value - $20-25
Joanna (Juana) and Charles (Carlos) kings of Spain (1506-1516)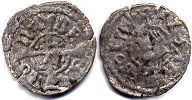 dinero ND
billon
BARC KNONN
IOA KAROLVS
Coin value - $15-20
Philipp (Felipe) III king of Spain (1598-1621)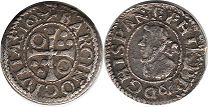 1/2 croat 161 (?)
silver
BARCINO CIVITAS 161?
PHILIPP D G HISP R
Coin value - $60-70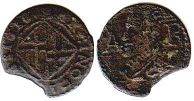 ardite (maravedi) 1616
copper
BARCINO CIVI 1616
A R
Coin value - $10-12
Philipp (Felipe) IV king of Spain (1621-1665)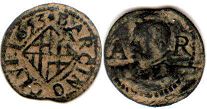 ardite (maravedi) 1653
copper
BARCINO CIVI 1653
A R
Coin value - $8-10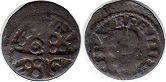 dinero 1624
copper
PHILIPP D G HISPA REX

Coin value - $10-15

Louis XIV king of France (1643-1659)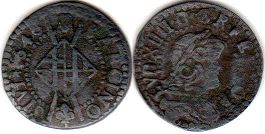 seiseno (6 dinero) 1646
copper
BARCINO CIVI 1648
LVD XIIII D G R F ET CO B
Coin value - $25-35
Peseta=24 quartos
Joseph I Napoleon king of Spain (1808-1814)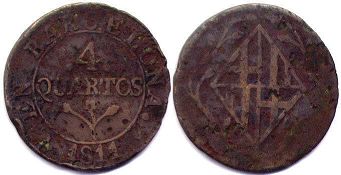 4 quartos 1811
copper
4 QUARTOS / EN BARCELONA 1811

Coin value - $8-10
Principality of Catalonia
Peseta=24 quartos
Ferdinand (Fernando) VII king of Spain (1808-1833)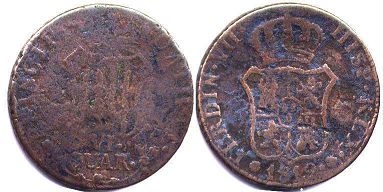 6 quartos 1812
copper
VI CUAR / CATHAL PRINCIP
FERDIN VII HISP REX / 1812
Coin value - $20-30

City of Gerona
Croat=9 ardite; Ardite=2 dineros
Philipp (Felipe) III king of Spain (1598-1621)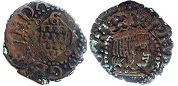 menut (dinero) ND
copper
GERONA CIVI
PHILIPP D G HISP REX
Coin value - $10-12
Kingdom of Majorca
Sou=6 dobler=12 dinero
Charles (Carlos) II king of Spain (1665-1700)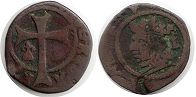 1 dobler ND
copper
Coin value - $25-30
Philipp (Felipe) V king of Spain (1700-1724)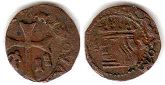 1 dobler ND
copper
Coin value - $30-40
South (Spanish) Navarra
Real=34 maravedi
Charles (Carlos) I king of Spain (1516-1558)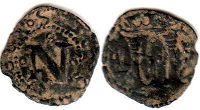 1 dinero (1/2 maravedi) ND
copper
SIT NOMEN DOM /N
PLVS VLTRA
Coin value - $30-40
Philipp (Felipe) III king of Spain (1598-1621)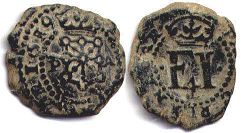 4 cornado (2 maravedi) 1619
copper
PHS A NR 1619
PHS D G REX NAVAR / F4I
Coin value - $30-40
See also - coins of Navarra kingdom
County of Urgell
Urgel - county in Catalonia. In its heyday, it included the territory from Andorra to Lleida. It was formed as a result of the conquest of the Franks, but from the end of the 9th century ruled by the descendants of the side branches of the Barcelona House
In 1410 King of Aragon Martin I died without leaving any heirs. Earl of Urgell, Jaime II was one of the claimants to the throne. However, they chose another, Jaime started a war, was defeated and imprisoned, and the county was annexed to Aragon (1413).
dinero
Peter (Pedro) II (1347-1408)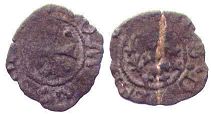 dinero ND
billon
A COMES URGELLI
PETRVS DEI GRACI
Coin value - $30-50
Pedro II (1340-1408) was the son of the previous Earl Jaime I. The county inherited at the age of 7 years, so until the age of majority was under the care of the mother.
He reconstructed the castles in Agrammun and Balaguer, granted Balaguer the right to hold a fair, and in general, he did a lot of housework.
In foreign policy, he was always faithful to his uncle Pedro IV of Aragon, in particular, helped him in the fight against Pedro I of Castile, in gratitude for which he was appointed ruler of Valencia.
Kingdom of Valencia
dinero
James (Jaime) I king of Aragon (1238-1276)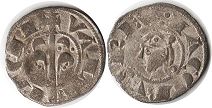 dinero ND
silver
VALENCIE
IACOBVS REX
Coin value - $30-35
Croat=18 dineros
Charles (Carlos) I king of Spain (1516-1558)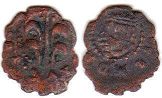 menut (dinero) ND
copper
Coin value - $20-25
Philipp (Felipe) III king of Spain (1598-1621)

menut (dinero) 1610
copper
VALENCIA 1610
PHILIPPVS DG
Coin value - $10-15
Philipp (Felipe) IV king of Spain (1621-1665)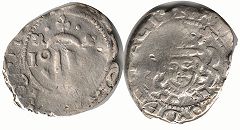 croat 1624
silver
VALENCIA MAIORICA REX / 1624
PHILIPPVS IIII DEI GRACIA VALENCIA
Coin value - $50-60
Charles (Carlos) II king of Spain (1665-1700)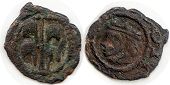 dinero 169(?)
copper
Coin value - $10-15
Philip (Felipe) V king of Spain (1700-1746)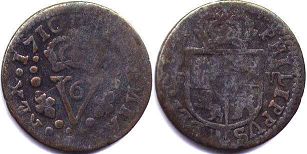 Seiseno (6 maravedi) 1710
copper
V / 6 /HISPANIARVM REX 1710
PHILIPPUS V DEI GRAT
Coin value - $25-30
Charles (Carlos) III archduke of Austria, pretender (1705-1711)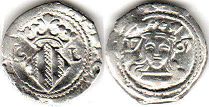 croat 1707
silver
Coin value - $60-80
City of Vic
dinero
Philipp (Felipe) III king of Spain (1598-1621)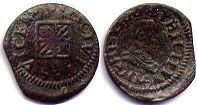 dinero ND (1611)
copper
VICERSIS CIVITAS
PHILIPPVS D G HISPAN R
Coin value - $15-20
Luis XIII king of France (1641-1643)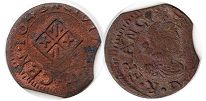 dinero 1643
copper
CIVITASVICEN 1643
LVDO D G FRANC
Coin value - $20-30
Viscayan Republic (Euzkadi)
Peseta=100 centimos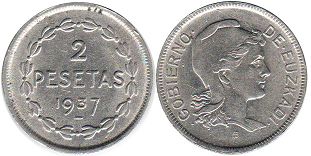 2 pesetas 1937
nickel
2 PESETAS 1937
GOBIERNO DE EUZKADI
Coin value - $10-15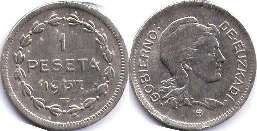 1 peseta 1937
nickel
1 PESETA 1937
GOBIERNO DE EUZKADI
Coin value - $4-6
See also - Castile and Leon coins