| | |
| --- | --- |
| | ONLINE COINS CATALOG |
Site search:
Index » World coins » Europe » Silesia
Silesian coins catalog
City of Swidnica
Coins minted in the city of Swidnica in Silesia in the years 1517-1526 - a vivid example of a fake to the detriment of the circulating money of a neighboring state. Swidnica half-groschen looked like a similar Polish coin, but instead of the original legend "coin of Sigismund of the Polish Kingdom", has another - "city of Swidnica Louis King of Hungary and Bohemia". Illiterate Polish population, was not interested in inscriptions and enjoyed using these coins, which were imported into the country in large quantities. Considering that the silver of the Swidnica coin was worse than the Polish one, economic intervention brought King Louis, in addition to political, also commercial dividends. In 1528 the Polish government began buying Swidnica half-groschen and melted them down.
Louis II king of Hungary and Bohemia (1516-1526)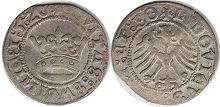 1/2 groschen 1526

silver
CIVITAT SWIGN 1526
LVDOVICVS R VN ET B
Coin value - $30-40
Duchies of Legnica and Brieg (Silesia-Liegnitz-Brieg) - Personal Union
Kreuzer=4 pfennig; Pfennig=2 heller
Christian (1653-1672)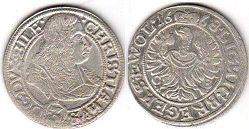 3 kreuzer 1668

silver
CHRISTIANVS D G DVX SILE / 3
LIGNIC BREGENS EWOL 1668
Coin value - $20-30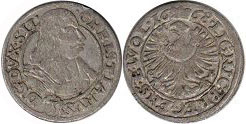 3 kreuzer 1668

silver
CHRISTIANVS D G DVX SIL / 3
LIGNIC BREGENS EWOL 1668
Coin value - $20-30
Duchy of Württemberg-Bernstadt (Bierutow) (1648–1745)
Kreuzer=4 pfennig; Pfennig=2 heller
Christian Ulrich I (1669-1697)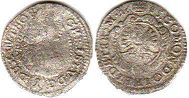 1 kreuzer 1685

silver
CHRIST V D G DUX WT SOB / I
COMON DO I HHID STER M 1685
Coin value - $20-25
Duchy of Wurttemberg-Oels (Oleśnica) (1649-1792)
Kreuzer=4 pfennig; Pfennig=2 heller
Silvius II Friedrich (1668-1697)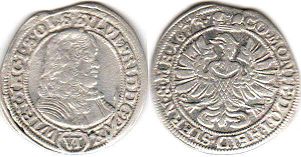 6 kreuzer 1674

silver
SILV FRID D G DVX WIRT TEC I S OLS / VI
CO MONTB DO I HEID STERN & ME 1674
Coin value - $30-40
See also - Polish Kingdom coins
Site search: