Index » Roman Empire » Julius Caesar
Julius Caesar Roman coins
Dictator (49-44 BC)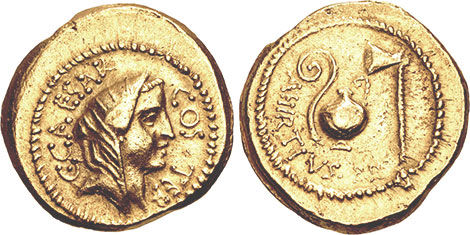 G CAESAR COS TER
A HIRTIVS PR
aureus 46 BC
gold
Rome mint
20.5 mm.
Veiled female head (Vesta or Pietas) right / GAIVS CAESAR CONSUL TERCIVS (Gaius Caesar Consul Fourth Time)
Emblems of the augurate and pontificate: lituus, capis, and securis / AULVS HIRTIVS PRAETOR
Coin value - $5000-6000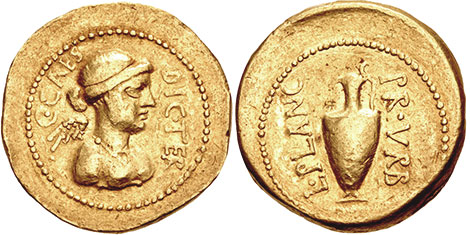 G CAESAR DIC TER
L PLANC PR VRB
aureus 45 BC

gold
Rome mint
20.5 mm.
Draped bust of Victory right / GAIVS CAESAR DICTATOR TERCIVS (Gaius Caesar Dictator Fourth Time)
Praefericulum / LVSIVS PLANCVS PRAEFECTVS URBI (Lucius Plancus City Prefect)
Coin value - $10000-15000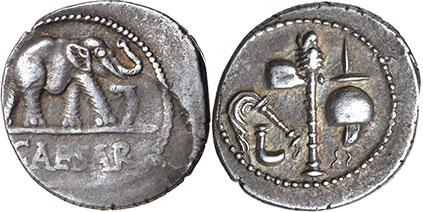 CAESAR
no legend
denarius 49-48 BC

silver
Military mint
18.0 mm.
Elephant to right trampling on serpent / CAESAR
Simpulum, sprinkler, axe and priest's hat
Coin value - $700-1000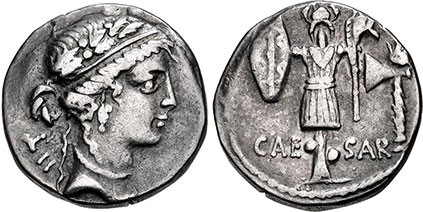 LII
CAESAR
denarius 48 BC

silver
Military mint
18.0 mm.
Diademed female head (Clementia?) left / LII (52 - Caesar age)
Trophy of Gallic arms / CAESAR
Coin value - $2000-3000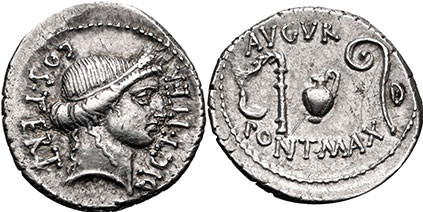 COS. TERT. DICT. ITER
AVGVR PONT.MAX
denarius 46 BC

silver
Military mint
18.0 mm.
Head of Ceres right / CONSVL TERCIVS DICTATOR ITERVM (Consul Fourth Time Dictator Second Time)
Emblems of the augurate and pontificate: simpulum, aspergillum, guttus, and lituus / AVGVRVS PONTIFEX MAXIMVS (Augur Greatest Priest)
Coin value - $500-1000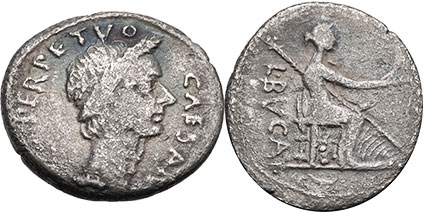 CAESAR DICT PERPETVO
L.BVCA
denarius 44 BC

silver
Rome mint
18.0 mm.
Wreathed head of Caesar right / CAESAR DICTATOR PERPETVO (Caesar dictator in perpetuity)
Venus Victrix seated right, holding Victory and transverse scepter / LVCIVS BVCA
Coin value - $1500-2000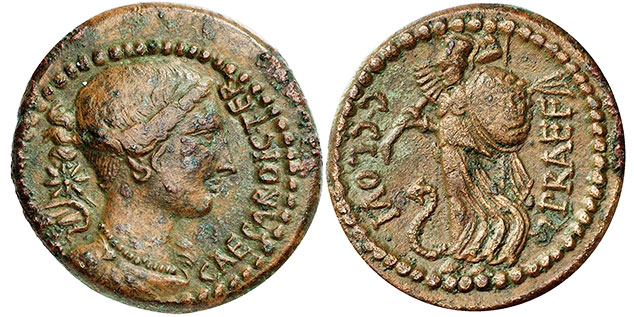 CAESAR DIC TER
C CLOVI PRAEF
dupondius 46 BC

bronze
Rome mint
27.0 mm.
Winged and draped bust of Victory to right / CAESAR DICTATOR TERCIVS (Caesar Dictator Fourth Time)
Minerva advancing to left, holding trophy and spears and shield, at feet snake / CAIUS CLOVIUS PRAEFECTVS
Coin value - $2000-3000
Coins images from the site coinarchives